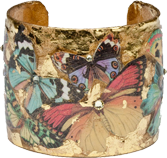 Evocateur's signature cuff collection has been featured in several high fashion magazines.
Boca Raton, Fl (PRWEB) June 14, 2012
Select pieces from the most popular of Amanda Rudey, Diane Yang, Beirn Bags and Evocateur jewelry and handbag collections are available at GalleryAtlantic.com. Each of the jewelry designers has had a piece from their line featured on the hit television series Gossip Girl. In addition, each designer has had well received editorial press in noted fashion magazines.
Amanda Rudey
Amanda Rudey is an entrepreneur with a taste for the whimsical. The Harvard graduate found her way into jewelry design on a spur of the moment jaunt to a local bead store. Rudey's feminine and sophisticated floral motifs have been spotted on fashionable American women, from the streets of New York to the hills of California. Rudey's jewelry is a hit in Hollywood and has been featured on popular shows Gossip Girl and 90210. Rudey's distinctively feminine jewelry has also earned the designer features in Harper's Bazaar, In Style and Essence.
Diane Yang
Diane Yang is a jewelry wunderkind, with a client list that includes Hollywood's most fashionable: Charlize Theron, Salma Hayek, and Kate Hudson. Diane Yang's flirty jewelry collections have been featured in several magazines, including People, Good Housekeeping, and In Style. Since trading in her animation career for the competitive catwalk of fashion design, Yang has continued to rise, from peak to peak. The combination of Yang's delicate wire work, quality crystals, and softly colored shells has proven irresistible to American women. Since 2003, Diane Yang Designs has grown from an ambition into a thriving jewelry design house.
Beirn Bags
In the Fall of 2007, Beirn officially launched with their signature "Jenna" hobo. Each Beirn bag is lined with a lightweight canvas material that can endure the lifestyle of a jet-setting woman. The Beirn collection artfully incorporates the signature watersnake material in an array of vibrant and classic shades. Many of the colors are available with the natural markings of the watersnake, creating an authentic and luxurious look. A Beirn Bag clutch was just featured in InStyle's May addition!
Evocateur
Connecticut design house Evocateur is known for the adventurous and eclectic style of its jewelry. Creating vintage jewelry is considered an art form, a look which the designers achieve using simple, high quality materials such as 22K gold leaf and a decoupage technique which produces some truly astonishing images. Evocateur's signature cuff collection has been featured in a variety of high fashion magazines, from Grace Ormonde Wedding Style to Running With Heels.
###