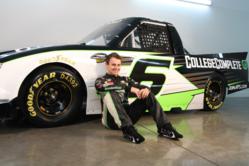 This team has a way of not giving up, we had a few near misses from tire rubs to caution flags and other issues out of our hands, but we didn't give up and that is what got us back up there.
Fort Worth, TX (PRWEB) June 11, 2012
Justin Lofton continued his streak of top-10s on Friday at the Texas Motor Speedway after driving his No. 6 College Complete (http://www.collegecomplete.com, 877-543-2655) Chevrolet Silverado to a ninth place finish, allowing him to increase his points lead in the NASCAR Camping World Truck Series(NCWTS) from one to five over Timothy Peters. Lofton, who now has seven top-10 runs in the first seven races, could have seen his night end drastically different after a caution flag with less than 40 laps to go nearly caught him a lap down.
"This team has a way of not giving up," Lofton said. "We had a few near misses from tire rubs to caution flags and other issues out of our hands, but we didn't give up and that is what got us back up there. We're doing it every week and we're going to keep it up."
Lofton led the field to green for the WinStar World Casino 400K on Friday night after inheriting the pole based on the NASCAR rulebook after persistent rain knocked out qualifying on Thursday. Once the 167-lap race was underway, Lofton took advantage of the track position, pulling away with the race lead for the first 26 laps.
Driving the same truck that he wheeled to victory in Charlotte, Lofton made his first pit stop of the night on lap 35, opting for four tires and fuel. After the stop, the team noticed some wear on the left rear where the tire had been rubbing. Unfortunately, the team was unaware of the extent of the tire rub at the time of the stop, forcing them to hold on to the hope that it wasn't so bad that it would cut down a tire.
Luckily, the tire held up, and on lap 75 under another caution flag, Lofton made yet another trip down pit road in his No. 6 College Complete Chevrolet. Under the stop, his crew took a few extra moments to pull out the sheet metal around the tire. He took the restart from the fifth position.
20 laps later, the yellow would wave again, and this time, strategy came into play. As crew chief Dan Bormann reviewed the fuel window and decided whether or not to pit, Lofton stayed on track. Other lead lap trucks opted to pit. The call put Lofton's College Complete entry back atop the leaderboard.
The race stayed green and Lofton drove his No. 6 Chevrolet in clean air as he paced the field around the 1.5-mile track knowing that he would have to pit for fuel before the end of the race. With a stop scheduled for lap 127, Lofton made the call from inside the race truck to drive down pit road one lap early, sensing that he was running out of fuel. Unfortunately, after the stop, the yellow flag was displayed for debris.
The untimely caution flag nearly caught the points leader a lap down, but fortunately, he was the recipient of the wave around, allowing him to take the restart from the tail end of the lead lap. He took the restart on lap 134 from the 20th position.
The seventh and final caution flag of the night fell on lap 139 of the 167-lap race. At the time, Lofton had climbed up to the 15th position. After taking the restart, he kicked it into high gear with his sights set on reclaiming the lost track position.
With 10 laps to go and noticing a slight vibration on his Chevrolet, Lofton muscled his machine back into the top-10. A strong truck allowed him to pick up one more position, but the laps ran out, ending his charge as he showed in the ninth spot.
"The truck was a little aero sensitive out there, but you usually have that at a lot of these bigger tracks. I love racing Texas though because it is fast and there is a lot of room to race. I was disappointed to fall back there, but it just showed how strong our truck was, to be able to drive back up there," Lofton said.
After leading a race high 55 laps, Lofton picked up two bonus points, padding his point lead from just one point to five entering the next NCWTS race on June 28th at Kentucky Speedway.
About College Complete
Partnered with hundreds of educational institutions and across all types of education goals, including traditional college degrees, trade and vocational certifications, and professional licensure, College Complete helps students assess all of the information that exists in the public domain, allowing them to understand and make sense of their educational opportunities. Their services are free and available to anyone. Whether you are interested in Art and Design, Business, Computers and Technology, Criminal Justice, Education, Healthcare and Medical, Science and Engineering, and much, much more; if you're an Electrician, a Nurse, an Automotive Mechanic, a Teacher, a Police Officer, or you're simply interested in learning Computer Programming, Networking, Web Development, or Graphic Design College Complete is available for you at no cost. You can reach them by filling out a form on their site or calling to speak with your personal Education Advocate at 877-543-2655. College Complete has an initiative to assist those in the US Armed Forces and their families and is able to assist in identifying schools that will not only provide the educational requirements of the soldier, veteran or family member but will do so in a cost effective manner.