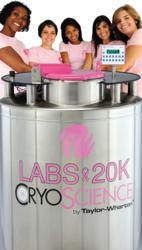 As part of our campaign, Taylor-Wharton has produced a specialty-manufactured version of the popular LABS20K cryogenic freezer, incorporating the well-known pink breast cancer ribbon into the logo
Mechanicsburg, PA (PRWEB) June 11, 2012
Taylor-Wharton is pleased to announce the application process for its Taylor-Wharton Partners For Life Giveaway Campaign, which will support various medical research fields each year. The campaign was created to support the ongoing challenge of finding a cure for breast cancer.
Luke Bradshaw, CryoScience Sales Manager for the Americas, stated, "As part of our campaign, Taylor-Wharton has produced a specialty-manufactured version of the popular LABS20K cryogenic freezer, incorporating the well-known pink breast cancer ribbon into the logo. This freezer, with specialty-designed pink accents, will be displayed at trade shows and other industry events across North America throughout the year before being awarded to a deserving applicant in the field of breast cancer research."
Biorepositories, researchers, and labs across North America are encouraged to provide a description of their work to find a cure for breast cancer via this application form. Deadline to enter is September 16, 2012. In the application form, applicants are asked to provide a brief overview of their program, mission, focus, and several other elements of their research including how a cryogenic freezer is important to their work.
A panel of six professionals in the cancer research and fundraising field has been selected to determine the most worthy recipient of the LABS20K cryogenic freezer. At the end of 2012, Taylor-Wharton will donate the LABS20K freezer, valued at more than $22,000, to the winning applicant.
About Taylor-Wharton Cryogenics
Taylor-Wharton Cryogenics LLC, an affiliate of Taylor-Wharton International LLC, is based in Theodore, Alabama, and manufactures state-of-the-art CryoScience by Taylor-Whartontm equipment from 1.5 liters to the largest LABS freezer that holds up to 94,200 vials. A complete line of CryoScience laboratory inventory control systems and accessories is also available. With worldwide operations and manufacturing facilities, Taylor-Wharton also produces a complete line of liquid cylinders, micro bulk and bulk tank storage systems up to 110,000 gallons. For more information on the complete line of Taylor-Wharton products, call 1-800-898-2657 or visit http://www.taylorwharton.com.
About Taylor-Wharton International LLC
Taylor-Wharton International LLC is the world's leading technology, service and manufacturing network for gas applications involving pressure vessels and precision valves. Taylor-Wharton International operates three complementary businesses from 16 manufacturing, sales, warehouse and service facilities in six countries on four continents, and markets its products in over 80 countries worldwide. Additional information about Taylor-Wharton International can be located at http://www.twiglobaltech.com; http://www.taylorwharton.com; http://www.awtank.com; and http://www.sherwoodvalve.com.