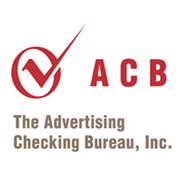 New York, NY (PRWEB) June 13, 2012
Manufacturers continue to evaluate their Co-op advertising and Trade Marketing programs to ensure they are meeting trade partners' needs relative to online and social media advertising activities.
Social media advertising is just one of the popular emerging advertising trends gaining attention and momentum with social media advertising spending estimated to reach $9.8 billion by 2016 (BIA/Kelsey's U.S. Local Media Forecast (2011-2016) 5/15/12).
As with most forms of online advertising, social media advertising is being reimbursed as an eligible Co-op activity on a limited and pre-approved basis, with few formal policies in place. To ensure that the advertising reflects the manufacturer's overall strategy, it is critical that the Co-op and Trade Promotion programs be adjusted to include complete social media advertising guidelines and documentation requirements.
The Advertising Checking Bureau's (ACB) past studies of Online Co-op Advertising Guidelines include a comprehensive analysis of social media advertising to determine how it can be incorporated into a manufacturer's Co-op program and marketing strategy. Over 70% of ACB's clients responding to the poll are either updating their programs or contemplating the addition of Social Media advertising to their programs. To assist, ACB has compiled Social Media Co-op Advertising Guidelines and Documentation recommendations. These comprehensive guidelines include ad requirements, qualifying and non-qualifying costs, pre-approval requirements and documentation guidelines.
Consistent with traditional advertising, brand integrity should be an integral part of a manufacturer's social media Co-op advertising strategy. Advertising on social media websites should follow the manufacturer's branding requirements including logo usage, content and approved artwork.
ACB's Social Media Co-op Advertising Guidelines can assist manufacturers and their channel partners in capitalizing on this exciting emerging media. Contact ACB for the complete copy.
The Advertising Checking Bureau, Inc. (ACB) remains uniquely qualified to address the Co-op/Trade Promotion, Ad Tracking, and Incentive Program Management needs of manufacturers and retailers. ACB is headquartered in New York City, with production offices in both Memphis, TN and Tempe, AZ.
For additional information, contact ACB.