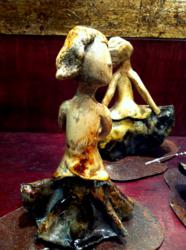 This show, we are going to focus on one artist. The idea is to show at the Temporaries and invite our customers to our main location just one mile away where they will find the work of over 300 Mexican Artisans
Atlanta, GA (PRWEB) June 28, 2012
No Mas! Productions of Atlanta (literally "no mass productions") and Amano Trade of Mexico team up to bring artisan crafted home accents to AmericasMart tradeshow July 13-17, 2012. No Mas! Hacienda, designer and importer of Mexican artisan products, has been an Atlanta niche home accents and furniture supplier since 1996. Their location, just one mile from AmericasMart, makes it easy to lure customers to their vast 11,000 square foot showroom and adjacent restaurant concept.
Stretch your imagination and try to remember the last time you went on that whirl wind - site seeing - museum hopping - gallery touring - high end boutique bopping - south of the border shopping spree in grand old Mexico?? Well, a visit to the expansive No Mas! Hacienda may just be a huge reminder ...or a new inspiration. If you haven't been, say no more. No Mas!, now well into their second decade of working directly with many of Mexico's most talented artisan's, has assembled a collection that is sure to leave you jaw agape. And to the pleasure of the gift buyers traveling to the Deep South this summer, they are bringing a small slice to market. This July you can find No Mas! at the AmericasMart Temporaries booth 7B16, they will be focused on just one of their 300 Mexican artisans. Co-Owner Steve MacNeil explains, "This show, we are going to focus on just one artist. The idea is to present the works at the Temporaries and invite our customers to our main location just one mile away so they can discover all of our collections". The featured artisan makes colorfully textured ceramic sculptures and wall art that bring together Mexican tradition and Italian heritage.
This is the second time No Mas! has invited specific artists from Mexico to Atlanta. The first, Cesar Plascencia, painter in the photorealistic style, was featured in October 2011 on Univision. As a result, No Mas! enjoys an exclusive relationship with him in the USA. "Good news is that these artists can not mass produce anything. Products are crafted by hand, using skills passed on from generation to generation". As a result, each item is unique and bears the unmistakable marks of the craftsman's hand. This makes an ideal niche when addressing the needs of small stores and designers looking for something unique and made by hand.
Since 1996, No Mas! has been discovering new artists constantly and now counts more than 300 artists from all parts of Mexico including Taxco, Oaxaca, Celaya, Tlaquepaque, Tonala, Ajijic, Guanajuato, Dolores Hidalgo, San Miguel de Allende, and many small towns in Michoacan. Their specialty is one of a kind commissioned designs and ranges to 'small run' pieces ideal for catalogs, hotel interiors, and custom architectural installations. If you make the journey and somehow don't see what you are after, please speak your mind. The possibilities are endless. "If you can sketch it we can make it", states Walter Bilinski. And as the second Co-Owner of this incredible business he quickly illustrates with photos countless projects that he is not joking. The repertoire starts with splashy blown glass lighting, includes numerous restaurant installations and leads to a wealth of beautiful architectural creations.
An open house for buyers coming to the July Gift Show will be held nightly during the expo at the company's main showroom at 180 Walker St SW, Atlanta, located in the Castleberry Hill Arts District. Margaritas and light Mexican fare will be served. Inquire at [email protected] for dates and times. All registered AmericasMart Buyers with a badge qualify to preview some other artisan produced products at that location.
No Mas! Hacienda & Cantina, The Best of Mexico - Restaurant & Shopping, in historic Castleberry Hill, downtown Atlanta's Art District, just half a mile south of CNN. Award winning Mexican restaurant and adjacent huge showroom of handcrafted furnishings, accessories, gifts, & jewelry from more than 300 artisans in Mexico, with breakfast daily in ADios Cafe, and "All the Pottery in the World" in Bodega Garden.