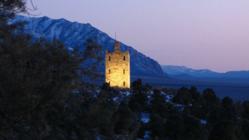 Austin, Nev. is celebrating its 150th anniversary by compiling 150 things to do in and around Austin. Each week for an entire year, three highlighted activities will be posted at www.austinnevada.com.
Pony Express Territory, Austin, Nev. (PRWEB) June 13, 2012
Located in Northern Nevada's Pony Express Territory, Austin, Nev. is celebrating its 150th anniversary (1862-2012) by compiling a list of 150 things to do in and around Austin, all within only a 60 mile radius. Each week for an entire year, three highlighted activities will be posted on the Austin, Nev. Facebook page, blog and website. For travelers, this takes the research and guess work out of building your own travel itinerary. Just check online each week to view recommendations.
Only a three-hour drive from Reno, Nev. along Highway 50, "America's Loneliest Road," the town of Austin sits along the steep walls of Pony Canyon with nearby mountains soaring to almost 12,000 feet. With extensive varying terrain and elevation gains come some of the best mountain-biking, hiking and ATVing in the state. This is also a place to enjoy soaking in the warm soothing waters of Spencer Hot Springs or dining at the Toyaibe Café for authentic "tastes" of the town.
Born an old-west town, Austin, Nev. was one day home to some of Nevada's more colorful prospectors and silver miners. The town features 11 sites on the National Historic Register: the Courthouse; Episcopal and Catholic Church; the Methodist Church/Emma Nevada Town Hall; The Austin cemetery; the round table down below town, Old town hall/ American legion hall; the Masonic Hall; Austin's old school house; Stokes Castle and the Gridley Store. What also makes Austin so intriguing to travelers is that it's full of things to do (at least 150!) for the more active traveler, the historian and families. Although rich in history, this town is not a ghost town and Main Street is ghost-free with motels, bed and breakfasts, RV parks, restaurants, gas stations and unique shops.
Here are a few highlights to showcase the 150 things to do in Austin for its 150th Anniversary:

The more active traveler should plan to visit the Toquima Cave(14 miles east of Austin on Highway 50) which is accessed from a dirt road that leads over the mountains from the Big Smoky Valley to the Monitor Valley. Used for religious purposes by Native Americans for thousands of years, the paintings (pictographs) in this cave are unique to the region. These paintings offer a view of the world from the perspective of a group of people living in central Nevada between 3,000 and 1,500 years ago.
On the way to Toquima Cave is Spencer Hot Springs, a cluster of natural springs on unimproved public land and the largest pool has water of about 140 degrees flowing into a concrete tub. There are no amenities but a relaxing soak can soothe traveling bodies.
Approximately 16 miles further from Toquima Cave is Hickison National Recreation Site where new trails await and caves with petroglyphs are open for viewing. There is also a campground but no water.
The Berlin Ichthyosaur State Park is 60 miles south with 700-year-old fossil remains and the well-preserved turn-of-the-century ghost town, Berlin, is part of the park.
Austin has three of the oldest remaining churches in Nevada, each listed on the National Historic Register of Historical Places. St. Augustine's which is being restored as a cultural center for Central Nevada (services are no longer held). Built in 1866, it is the last remaining structure of the first four Catholic churches built in Nevada, giving it the honor of being the oldest Catholic Church in Nevada, featuring a nine rank Henry Kilgen pipe organ, and murals by Jolly Brothers painted on the church's walls during the mid 1930's.
The International Hotel is one of the oldest hotels in Nevada, now operating as a bar and café. A portion of the bar and east side of the building was the original International Hotel in Virginia City, built in 1859.
Rounding out the above highlights are Driving and Walking Tours; Fishing and Hunting Spots; the Stokes Castle and ancient Petroglyphs. There's even an Indian Pow-wow going on in the month of June (22 & 23) located 90 miles east of Austin between Eureka and Ely. The Duckwater Shoshone Tribe Contest Pow-wow is honoring Native youth and elders. Call (775)-863-0185.
Review Austin, Nevada's list of things to do, and let the Chamber know if you have an additional favorite event or spot to include in celebration of its 150th Anniversary at austinnvchamber(at)yahoo(dot)com.
For more information check online, or call the Austin Chamber of Commerce 775-964-2200. Austin is one of six friendly communities along Nevada's Pony Express Trail Hwy 50; call for more information 888-359-9449.
###
ABOUT THE PONY EXPRESS TERRITORY
Nevada's Pony Express Territory sits on 17 million acres of wide open space with 150 years of rich history, rugged undisturbed nature and black night skies. The Territory is where the Pony Express riders once galloped along its main trail, now Highway 50, connecting the six adventurous towns of Dayton, Fallon, Fernley, Austin, Eureka and Ely. 1,840 miles of wilderness was crossed in the Nevada "Pony Express Territory". Twenty years ago Life Magazine designated this section of Nevada State Highway 50 – "America's Loneliest Road."
For more information, visit The Pony Express Territory online, or call 1-888-359-9449.
Follow us on Facebook.
Follow us on Twitter.
See Austin on Pinterest.