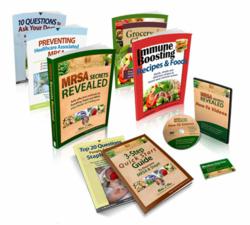 Knowledge is the best prevention. Please click the social buttons to share this info-graphic with friends and loved ones and help prevent the spread of MRSA this summer.
Port Townsend, Washington (PRWEB) June 12, 2012
Just in time for summer, Embrace Health Inc. releases an informative info-graphic to build public awareness about the risks of contracting MRSA and CA-MRSA while traveling for vacation. More important, this graphic is geared towards prevention.
First, what is MRSA? Once known as contracted only through hospitals from other patients or during surgeries, Methicillin-resistant Staphylococcus aureus is a form of Staph Infection that is:
1) Resistant to most antibiotics used to treat Staph Infections
2) Rapidly spreading in community settings
3) Is frequently listed among the top 5 deadliest skin infections over a recent sample selection of nearly 733,000 websites.
This skin infection is not to be taken lightly. In their studies, Embrace Health Inc. (founders of http://www.Staph-Infection-Resources.com) has found that 30% of Americans are carriers of the Staph bacteria already. Some may never be infected, but they can pass this on and infect others.
Those who are affected worst find their battle with MRSA is a tough one.
In some cases, what starts out looking like a spider bite can quickly turn into a deadly Flesh Eating infection. While it's certainly not the norm, it has also been reported that some people have to amputate body parts to stop this horrid infection all together; others have lost the battle and lost their lives to this Staph Infection as well.
MRSA Sufferers are devastated by its brutality to say the very least. But there are steps you can take to help prevent it, and there are treatment options.
Due to its resistant nature, standard antibiotics aren't effective enough as a stand-alone MRSA Treatment. However, natural remedies and alternative medicine have proven to be an outstanding asset when combined with antibiotics. Prevention is always the best medicine.
This is not a hospital-only infection anymore! We now know that the risk of catching a Staph Infection can be minimized with awareness and proper sanitization.
The info-graphic on MRSA Prevention and Summer Travel Tips seen here http://www.staph-infection-resources.com/staph-mrsa-treatment/summer-safety-tips/ shows where you might come in contact with Staph bacteria during your summer travels and how easy it is to spread on surfaces and even through the air.
This info-graphic also teaches readers how to pack smart before heading out, what to look out for and how to respond to the risks without being a germaphobe.
The prevention tips shared in this graphic will not only help prevent the spread and contraction of Staph for you and your family this summer, but the same precautions will also help prevent infections from a number of additional diseases as well.
Microbiologist Michelle Moore (of Embrace Health Inc.) says that "We concluded that this info-graphic was important, because people needed to be informed in a simple and easily digestible way about this infection. We also knew that if we could share our message with an airy tone (ie: friendly summer graphics) that while this infection could be life threatening --- people would not take it lightly, but they wouldn't cancel their summer plans either. People need to live and enjoy life. All we are doing with this campaign is helping them do it safer and healthier."
Michelle also adds, "Many of us know of someone who suffered from Staph or MRSA Infection. If we don't want this to happen to us or our loved ones – knowledge may be the single most powerful prevention out there. We also believe that we can significantly decrease the spread and impact of Staph if people help build awareness by sharing this with their friends and loved ones."
To view or share this info-graphic please visit http://www.staph-infection-resources.com/staph-mrsa-treatment/summer-safety-tips/ and click the SHARE buttons to tell your friends and family (through facebook, twitter, google+ or more) before they start their summer as well.
About Embrace Health, Inc.:
Celebrating 4 years of business in 2012, Embrace Health Inc. was co-founded by Microbiologist Michelle Moore and specializes in informational resources for Staph and MRSA infections. The company has helped over 11,000 Staph and MRSA sufferers.
Michelle Moore, Co-Owner and Vice President
Embrace Health, Inc.
888-660-8944
http://www.Staph-Infection-Resources.com
This information is not intended to treat, cure, prevent, or diagnose disease or medical conditions, nor is it intended to prescribe medical treatment. The author does not distribute medical advice and is not responsible for use or application of the information contained herein. Issues concerning health should be referred to qualified health care professionals. People who have health conditions, are pregnant, nursing, or have allergies, should consult a physician before beginning any health program.