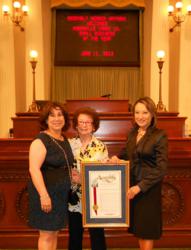 "Annabelle Candy Company shows that great success is built on responsible business practices and respect toward employees and the larger community," --Assemblymember Mary Hayashi. "
Sacramento, CA (PRWEB) June 11, 2012
Assemblymember Mary Hayashi (D-Hayward) has selected Annabelle Candy Company as her California Small Business of the Year for 2012. The 62-year-old Hayward-based company was recognized today at the annual California Small Business Day luncheon at the Sacramento Convention Center.
"Annabelle Candy Company shows that great success is built on responsible business practices and respect toward employees and the larger community," stated Assemblymember Mary Hayashi. "This family-owned business has provided living wages and a fair environment for employees, and took a leadership role in the use of renewable energy. Their products hold a special, nostalgic place in the hearts of many people, and we're proud to have such a wonderful company in the 18th Assembly District."
What started as a family business continues today as the one of the largest independently owned candy bar manufacturers in the United States.
Sam Altshuler founded Annabelle Candy Company in 1950 and it has been in the city of Hayward since 1965. Naming his business after his daughter, Mr. Altshuler struggled with several unsuccessful years before he made his first major hit in the famous Rocky Road® candy bar. The item quickly gained popularity, leading to the company's manufacturing of some of the most traditional and well-known candies on the West Coast.
Sam Altshuler passed away in 1971, leaving control to his daughter, Annabelle Altshuler Block. In 1972, Annabelle Candy purchased Golden Nugget Candy Company of San Francisco–the makers of Big Hunk® and Look® candy bars. In 1978, Annabelle engineered the acquisition of the Cardinet Candy Co., which manufactured U-NO® and Abba Zaba® candy bars. Annabelle's daughter, Susan Gamson Karl now manages the day-to-day operations of the company as President and Chief Executive Officer.
Earlier this year, Annabelle Candy went green, installing a PV solar system that will offset 90% of the company's electricity costs. As one of the first manufacturing companies in the area to go solar, Annabelle Candy made a great step forward for business-based conservation efforts.
Sponsored by the California Small Business Association, California Small Business Day recognizes the contributions of small business to the state of California. The California State Senate and Assembly are invited to honor small businesses from their districts at a special luncheon, which is held as part of the Day's events at the Sacramento Convention Center.
Assemblymember Hayashi is the Chair of the Business, Professions, and Consumer Protection Committee and serves the 18th Assembly District, which includes San Leandro, Hayward, Dublin, most of Castro Valley and Pleasanton, and a portion of Oakland, as well as the unincorporated areas of Ashland, Cherryland, San Lorenzo and Sunol.
# # #