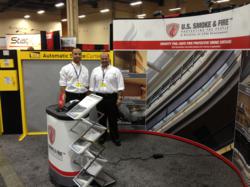 Las Vegas, Nevada (PRWEB) June 13, 2012
U.S. Smoke & Fire and BLE Smoke and Fire Curtains together exhibited gravity fail-safe fire protective smoke curtains at the annual National Fire Protection Association (NFPA) 2012 Conference and Expo in Las Vegas, NV. The NFPA is the world's largest advocate of fire protection and public safety with over 70,000 members around the world.
At the NFPA Conference & Expo, U.S. Smoke & Fire displayed a range of products for various applications to thousands of attendees, among them fire safety experts and consultants, to demonstrate the security and efficiency of the BLE gravity fail-safe curtain technology in protecting building occupants and allowing for their safe egress.
Gravity fail-safe automatic fire rated smoke curtains are not a new technology but have been used successfully worldwide for decades. Over the last ten years, U.S. Smoke & Fire has worked with BLE to introduce the technology to the North American market, specifically to architects, engineers, contractors and authorities having jurisdiction (AHJs) to familiarize the building profession with its many applications, which include opening protectives, smoke barriers, and smoke partitions. U.S. Smoke & Fire is also an American Institute of Architects (AIA) approved provider of continuing education credit and gives regular presentations on the subject of fire protective smoke curtain technology.
BLE fire protective smoke curtains are a UL listed, cost effective, space-efficient, low-maintenance system and do not require power to deploy. The system integrates with the fire alarm system, and deploys by gravity when it receives a signal. Curtain technology allows more open space, natural light and air, and can help contribute to a building's LEED certification by reducing energy consumption.
U.S. Smoke & Fire has been a regular exhibitor at the NFPA Conference & Expo over the last ten years, and sees continued progress in getting the technology nationally recognized and specified. U.S. Smoke & Fire has recently completed installations at the Kennedy Center for the Performing Arts and the Smithsonian National Museum of Natural History, among many others.
About:
U.S. Smoke & Fire, A Division of CYSA Development, is a licensed manufacturer and value-added licensed distributor of BLE Smoke and Fire Curtain, the global leader in smoke and fire curtain technologies.