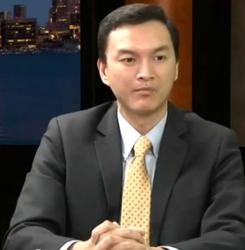 We did our homework; we spoke with athletic directors, coaches, trainers, gym owners and professional athletes.
Corona, CA (PRWEB) June 20, 2012
The American Dental Association now recommends a mouth guard for any contact sport or sport where injury to the face and mouth may occur. The statistics from the ADA are dramatic: an athlete is sixty times more likely to sustain damage to the teeth with some kind of permanent health or aesthetic problem, when not wearing the proper protective mouth guard.
Elmer Tolentino - Partner of Python Guards Mouth Guards and owner of a local dental office - stated their research found that a mouth guard must protect each tooth and that it also had to be comfortable for people to wear constantly. So they made sure the edges of their new custom guard were smooth with no sharp edges. He went on to say, "We did our homework; we spoke with athletic directors, coaches, trainers, gym owners and professional athletes." In addition they spoke with and developed relationships with the various mouth guard industry professionals. Their conclusion was that for a mouth guard to be truly effective, it had to be custom-made and meet rigid manufacturing specifications.
In areas around the country where kids grow up playing sports year round, safety is a growing concern, especially since kids are injured at younger and younger ages, and the effects are cumulative. Like all safety regulations, it's an evolution of education and injury statistics that force change.
Tolentino stated that it was his years in Martial Arts that made him realize just how ineffective the "boil and bite" mouth guards were. He saw kids and adults chipping and losing teeth, getting their jaws broken, and more. He went on to say, "The crazy thing is, you see so many families here in Southern California spending big money on their children's sports, especially these club-sports that can cost thousands, but then they go buy a $10.00 mouth piece from the local sporting goods store thinking they're protecting their kids! The truth is they're not, and with the cost of a crown and root canal being over $1,200.00 and possible permanent damage, it's a real false sense of security."
Python Guards has forged relationships with entities such as UFC Gym, BJPENN.COM / 180 Guard, RVCA, and other gyms / vendors around the United States. Python Guards manufactures high quality custom mouth guards and receives orders from around the world. Python Guards is now developing partnerships with dentists around the country whereby the dentist becomes a distributor and takes the impressions for Python Guards. The manufacturing process is then done by Python Guards to ensure they are manufactured to the proper specifications. This makes custom-fit mouth guards even more accessible and includes the athlete's own trusted dentist in the process.
So if you're a parent of an athlete, or you've paid for braces or you're signed up for the office softball team, ask yourself if maybe you should write one more important check . . . for a custom mouth guard that would do what you expect it to do, truly protect your teeth. You could pay a lot more in dental costs if you don't.
# # #
For more information Contact
Python Guards
877-303-6180
etolentino(at)pythonguards(dot)com