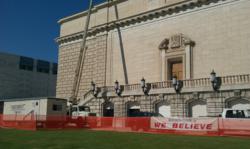 We believe in Detroit and are proud to help preserve the DIA, one of the city's landmark buildings.
-- Jelane Cashero-Raycraft
Detroit, MI (PRWEB) June 19, 2012
Jelane Cashero-Raycraft, Vice-President of the Grunwell-Cashero Company, announced recently that the company was awarded a large restoration project at the historic Detroit Institute of Arts in Midtown Detroit.
"The revitalization of Detroit is very important to us," said Jelane. "and we are proud to have been selected by the DIA for this renovation project."
To preserve the integrity of the Beaux Arts style museum built in 1927, the company will be employing innovative techniques on the Detroit Film Theater stair entrance project.
Grunwell-Cashero has a deep history in the city. Countless Detroit buildings are in the company's portfolio of work. Recent notable projects include the Coleman A. Young Building, the Detroit Main Public Library, and the Fisher Building.
"We have been in Detroit for almost 60 years," Jelane added. "It's our home."
The DIA project is scheduled for completion in the Fall 2012.
About Grunwell-Cashero
Grunwell-Cashero is a Detroit-based company that specializes in building restoration, rehabilitation and preventive maintenance. Our skilled craft workers combine traditional practices from the past with the latest industry advances to deliver projects on time and under budget. The quality of our work is best captured by our completed projects and client recommendations. For more information and to review our award-winning portfolio of projects, please visit our website.
About Capital Letters
Capital Letters is a business-to-business marketing company headquartered in Ann Arbor that specializes in the commercial and industrial construction industry. Chris Hippler is the principal strategist and leads a team that focuses on getting results for clients through all channels, including new media, print, PR, and broadcast.