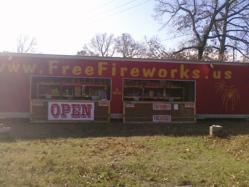 Success doesn't just happen
Houston, TX (PRWEB) June 12, 2012
When Jonathan Dobyns was 5 years old, he enjoyed fundraising door-to-door and in front of "super centers" for school & church projects. "He always was very extraverted and friendly, so these "sales jobs" came very naturally to him.", Jon's dad, serial entrepreneur & crowdfunding expert, Robert Dobyns, said.
When Jon was eleven, his dad, paid him to read Napoleon Hill's "Think & Grow Rich". "Probably the best money my dad ever spent", Jon commented, thinking about the impact which it made on his life. So, when he was 14 and he "inherited" some candy vending machines, it was only natural that he started Jon's Vending and began cold calling on local businesses to gain placement locations for his sweet new startup.
Seeing Jon's interest in business, at 15, the Conroe, Texas resident's father inquired as to whether or not he had an interest in using a vacant piece of commercial property which they owned to establish a fireworks dealership. Since both Texas fireworks seasons fall during non-school periods, Jon thought it would be a grand addition to his business profile and one that would not interfere with his studies. (Jon is a straight A student). Plus it gave he and his dad some quality time together to hammer out the details surrounding this new enterprise.
Now, two years later, the high school senior is preparing for his fourth fireworks selling season, has two operating stands, and plans to open a third at the end of the year.
"Success doesn't just happen", Jon said. "You have to make it happen through hard work and careful planning. Luck doesn't enter into the deal at all!".
Jon plans to use the fireworks business to help pay for his upcoming college expenses. "It's a no-brainer", Jon quipped, "Come back home in the summer and for Christmas, visit the folks, AND give another boost to my bank account! Life is good..."
This year Jon plans to add a new element to his bang-up business, assisting some non-profit groups by partnering with them to use his stands for their fundraising efforts. "Someone has to work my stands. It's not a long-term commitment and can generate some needed cash for their cause. It's a win-win!", Dobyns injected.
This year's Independence Day fireworks season runs from June 24th to July 4th, 2012.
Non-profits desiring to inquire about partnership opportunities with Jon or to get more details on Jon's fireworks business, visit http://www.FreeFireworks.us