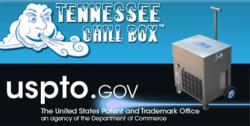 The patent covers everything from a fresh air supply system that's air conditioned from a our unique air delivery standpoint.
HARISON, TN (PRWEB) June 12, 2012
After an 18-month qualification period, the United States Patent and Trademark Office (USPTO) has officially published Tennessee Chill Box's utility patent application. The patent was issued and published on May 24, 2012.
The Tennessee Chill Box increases comfort levels for workers operating in high temperature environments by supplying air conditioned, cool, fresh air to them for added safety and higher productivity.
The US Occupational Safety and Health Administration (OSHA) is extremely concerned about protecting workers from heat stress, especially during the summer. Every year, thousands of workers become sick from exposure to heat, with some cases being fatal. These illnesses and deaths are entirely preventable. There are precautions your employer should take any time when temperatures are high and the job involves physical work.
In occupations that involve respiratory equipment, such as painting, insulation, welding, HAZMAT, and asbestos abatement, heavy protective clothing and all of the associated personal protective equipment (PPE) can abate heat stress.
The Tennessee Chill Box supplies fresh air for personal breathing protection when needed. This device can supply cool air, as much as 40 to 50 degrees lower than the ambient temperature, for two workers operating up to 100 feet from the unit.
Tennessee Chill Box's application, No. 20120125037, "Air Conditioned and Heated Ambient Fresh Air Supply System," is now listed on the USPTO's website and patent database.
"I had to really cover my bases," said Asbra. "The patent covers everything from a fresh air supply system that's air conditioned from a our unique air delivery standpoint."
Tennessee Chill Box's objective in applying for a patent is to protect the proprietary designs of the company's blower-driven air conditioned air supply system, the Chill Box 8000. The machine creates a cool, comfortable respirator suit environment for spray applicators, which may find themselves working in 100-plus-degree working conditions. Asbra formulated the idea in the early 2000's, but it took him several years to achieve a final design in which fresh air was cooled in a consistent manner. He began manufacturing in earnest in 2010.
"We're replacing the old standard mindset of compressed air units," said Asbra. "We use the best components available and the results are just phenomenal."
One such customer in Louisiana, known for its hot and humid climate, had this to say, "We've had our Chill Box for over a year and my guys absolutely love it. I couldn't get my guys to use our old air system due to heat and also kinking the small air hose. Since switching, my guys have made a drastic improvement in the amount of time they can stay spraying. It helps a lot with the Louisiana heat during the summers."
For more information, check out Tennessee Chill Box's article on SprayFoam.com.
About Tennessee Chill Box: Harrison-based Tennessee Chill Box aims at improving the working conditions and performance of sprayer applicators. The Chill Box was designed to eliminate exhaustion, cramps, fatigue, nausea, dizziness and weakness via condition air, as high attic temperatures contribute to safety concerns and the loss of production and profits. Tennessee Chill Box has an OSHA Authorized Trainer on-site to ensure compliance with all OSHA-referenced standards, regulations and requirements. For more information, please visit http://www.tennesseechillbox.com.