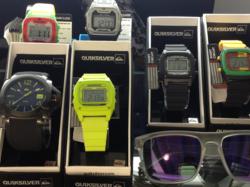 Annapolis, Md (PRWEB) June 13, 2012
Pure Board Shop has been growing their accesories catagory since last year by bringing in more than just your average wallets and belts. They started bringing cheap plastic sunglasses and then moved on to socks and cheap watches to now having high end sunglasses. With high end sunglasses the next step was high end watches and Pure did just that with bringing in Quiksilver watches.
Pure Board Shop are testing the waters with just two styles of Quiksilver watches, the Lanai Watch and the Short Circuit Watch. The Lanai watch being the higher end of the two is a classic analog watch with a stainless steal face plate and a comfortable polyurethane strap which blends style and comfort and above this watch is made to go with you from the surf to the bar. The Short Circuit is a standard digital watch with date, alarm and timer but can go up to 10 meters deep, the watch is simple and clean and does everything you want from a digital watch.
If all goes well with Quiksilver watches Pure Board Shop will be growing the high end watch category even more, "wait for fall because we are bringing in high end bags and back packs," says shop manager Josh Menocal.