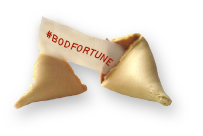 The Tweet that gives back. #BODFortune
Los Angeles, CA (PRWEB) June 13, 2012
In keeping with its reputation as an online oasis of healing, laughter and hope, Bad Online Dates, a humorous and informative online source of encouragement for people who have experienced bad dates, launched a new online service to soothe the souls of bad-date experiencers or anyone who needs a boost to have a better day. #BODFortune is a good fortune-cookie-style random fortune generator (think Magic 8 Ball) that uses the Twitter hashtag #BODFortune and direct messages to deliver words of good fortune and encouragement.
Jennifer Kelton, author and CEO/founder of BadOnlineDates.com says, metaphorically and tounge-in-cheek, she ate her way through thousands of fortune cookies to gather only the most positive and encouraging fortunes for the Bad Online Dates Twitter followers.
"Yes, I've put on about 500 pounds since beginning work on this new site feature, and I hope people will use #BODFortune to make it worthwhile--aka my skinny jeans don't fit anymore," she laughs. "Okay, I didn't really put on 500 pounds. But I did eat quite a few fortune cookies and I did a lot of research online, always thinking of the Bad Online Dates followers and site members who need new ways to turn lemons into lemonade."
Twitter Fortune Cookies Boost the Brain's Good-Mood Dopamine:
According to Kelton, the idea for #BODFortune came from a chapter in her popular dating and mating book, Don't Use my Sweater Like a Towel. The chapter, called "Life, Love or Dopamine," shares Kelton's interest in how the human body produces dopamine, a chemical in the brain that makes people feel happy. Studies show using technology and falling in love are both activities that cause the brain to produce dopamine.
"I thought, how can I use technology in a positive way to give daters the dopamine fix they didn't get during their bad dates," Kelton explained. "It's so fun to use #BODFortune, you'll look forward to it as much as you do a good date. When that good fortune shows up in your direct message box, you'll feel the dopamine pushing out the blues."
A Positive a Friend for Life, Love and Hope in #BODFortune:
To use #BODFortune, anyone who has a Twitter account and follows BadOnlineDates.com can simply tweet #BODFortune then wait for a good fortune to arrive. Kelton says she carefully handpicked fortunes about love, hope and life in general. She says they are relevant pick-me-ups for any terrible feeling you might have or situation you might be facing. You don't have to have had a bad date to seek a good fortune through #BODFortune. "When it's late at night and you can't call on anyone, you can call out our name," she said. "You've got a friend in BadOnlineDates.com."
Here are examples of #BODFortune's good cyber fortunes:

Love is like wildflowers...it is often found in the most unlikely places.
The time is right to make new friends.
Adventure can be real happiness.
Dating experts are already singing praises to #BODFortune's ability to cheer up depressed daters and other who need a mood boost.
"@Badonlinedates has done it again. Their innovative approach to social engagement already turns heads, creating hordes of cyber copycats, but #BODFortune is out of the park. Well done!" @JeyAssociate.
"It's like a Fortune Cookie for Twitter! So innovative and an awesome conversation piece. You know I'll be using it!" @LisaJey
"The tweet that gives back to me? I'm in. Bring it." @MsCheevious
#BODFortune is an awesome pick-me-up that makes me smile! If you haven't already, you must check it out on Twitter! I'm psyched for all the DM fortunes in my future!" @sassy_divorcee
"So fun Jennifer Kelton! Fabulous and innovative idea. Greatest thing since frozen waffles! Love this!" @DirtyInPublic
To learn more about Jennifer, the website and #BODFortune, along with many other handy, funny services to make bad days better, visit BadOnlineDates.com. Jennifer Kelton is available for interviews by calling 310-306-2366.
About Bad Online Dates Founder/CEO Jennifer Kelton
Jennifer Kelton is an entrepreneur, author, social media innovator and dating advisor, who has been investigating the game of love for 30 years. Kelton is founder and CEO of Bad Online Dates, Green Knights Entertainment, and Bad Date TV, as well as author of Don't Use My Sweater Like a Towel, a candid dating guide. Jennifer recently signed a production deal with an entertainment company in Los Angeles for a network TV show. Her work and book have been featured on CNN Living, The Washington Post, iPad News Tracker, TIME Travel, Seattle Weekly, ABC KGTV San Diego, KTVU FOX Oakland, Mashable and many other media outlets. Fans can laugh, post bad dates and get dating advice on the Bad Online Dates Facebook Fan page http://facebook.com/badonlinedates, Twitter https://twitter.com/#!/badonlinedates, blogs, Bad Date TV http://www.BadDateTV.com and free Bad Dates App.
Attachments
1. BadOnlineDates.com link and logo http://badonlinedates.com/
2. Link to Twitter account https://twitter.com/#!/badonlinedates
3. Link to article about dopamine. http://www.psychologytoday.com/blog/brain-bootcamp/200907/techno-addicts
4. Link to Don't Use My Sweater Like a Towel http://ow.ly/bvCj1