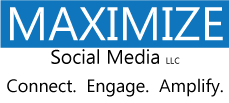 "Non profits tell us they are looking to save money and expand outreach," said Wesley Barnett, CFO of Maximize Social Media LLC
Los Angeles, CA (PRWEB) June 11, 2012
Religious institutions are now able to find help navigating the ever changing world of social media, announced Maximize Social Media LLC, a leading social media marketing agency with offices in Los Angeles, CA and Central Florida. Maximize provides social media management to numerous non profits and has a track record of successfully providing the word of mouth marketing that is critical to helping nonprofits communicate with the public. The agency will offer religious institutions a turnkey social media management service that includes Facebook, Twitter, YouTube, Google+ and Pinterest.
"This coming Wednesday our firm will offer a workshop for hundreds of pastors at a major Methodist conference in Florida. We will focus not only on how to effectively communicate with existing church members but also how to effectively use social media for community outreach and to invite new families to visit a place of worship," said Chris McLaughlin, CEO of Maximize Social Media LLC.
McLaughlin mentioned that social media is the perfect outlet for those interested in expressing their religious beliefs. "We instantly noticed the strong affinity for social media and religious institutions when we asked about local churches on a Facebook community page. There were literally hundreds of responses and our engagement levels were well above average. It is clear that social media offers a wonderful outlet for those interested in communicating with others about issues of faith," he noted.
Maximize Social Media has proven experience in providing social media management to non profits. The company's Chief Financial Officer, Wesley Barnett, has a strong family history of encouraging philanthropy and community involvement, particularly in the South East, where Barnett's grandfather, George Jenkins, was well known for his generosity and local community support as founder of Publix Super Markets. That commitment led Barnett to co-found NobleHour.com, an online service providing community service organizational tools for schools, and to encourage Maximize to provide social media solutions for nonprofits.
The agency has had significant success when it handled the social media management for a large United Way agency in the South East. "Non profits tell us they are looking to save money and expand outreach. Social media provides the ability to offer both as the viral nature of social media really takes over – users want to share the good works of these nonprofits with their friends and family," said Barnett.
Religious institutions are invited to contact Maximize Social Media LLC for a consultation to determine how to best utilize social media to grow community awareness and effectively communicate with existing worshipers. Maximize offers a significant discount over its normal consulting fee for nonprofits.
About Maximize Social Media LLC
Maximize Social Media (http://www.maximizesocialmedia.com) is a social media agency that provides management services for clients in over 40 different verticals. With offices in Florida and Los Angeles, Maximize offers social media consulting and Facebook advertising management for clients in English speaking countries such as the US, Canada, and Australia. The company also features social media management outsourcing for busy social media mangers looking for additional assistance on a white label basis.