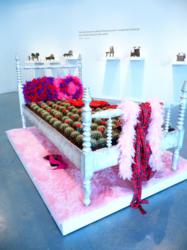 Poller's "In & Out of Bed", when it is comprised of 160 live cacti, is a challenging proposition.
(PRWEB) June 12, 2012
Leah Poller's exhibition "In & Out of Bed" offers viewers a provocative view of a common object: the bed. As centerpiece for the exhibit, Poller has executed a life-size "Bed of Cactus" to illustrate the contradiction of the bed as both inviting yet intimidating, soft yet prickly, desirable yet fraught with danger. Her vision utilizes more than 160 live cacti, a plethora of dreamy feathers, and an assortment of suggestive objects stimulating a desire to "bed", and a certainty that the consequences would be less pleasing than imagined.
Even creating the "Bed of Cactus" brought the ins and outs of the creative process to the surface: While the internet held promise to easily source the specific plants, Poller found satisfaction only when the local Home Depot in Hialeah Florida embraced her project in a collaborative spirit with an email saying "Hi, we are very excited to be part of this project." Enlisting the full support of the Home Depot Pro-desk led to a hands-on collaborative effort, joint problem solving, and a search for the ideal plants.
"The bed is something that every man, woman and child can relate to. My Bed of Cactus has apparently spiked attention, even in the creation of it!", exclaims Poller in delight.
The critical success of Poller's of work can be attributed in part to the public's fascination with the bed as a metaphor for life's twists and turns, a three-dimension personal theater in which a third of life is spent laughing, loving, dreaming and sleeping in the bed. Poller's personification of the bed, executed in sculptural forms, with a high degree of detail, mastery of medium and execution of concept takes the bed into a new realm of contemplation. Renowned surrealist author and humanist Kurt Vonnegut, on seeing the 101 Bed Collection, said, "Poller's beds blow my mind!"
Using found objects and visual metaphors, Poller's sculptures of the bed have been compared to large jewels of the imagination, inspired by an endless vocabulary of personal and collective experiences, and punctuated with truth and emotion about the human condition.
Daniel Florio, Mordoch Gallery Director states "From working closely with Poller, I view the bed in a totally new way. That is the value of art and the role of the artist – to open our eyes."
"Whimsical, spiritual, political and provocative, Poller's beds create a biography of humanity and its intimate relationship to this icon. Crowned by the site-specific installation of "A Bed of Cactus" in the middle of the gallery, the public is invited "In and Out of Bed", concludes eponymous gallery owner Lelia Mordoch.
Miami's hot Wynwood gallery district, home to Paris' Lelia Mordoch Gallery opened Leah Poller's exhibition "In & Out of bed" on June 9th during the monthly Wynwood Art Walk. The work will be on view until July 28 at 2300 North Miami Avenue in Miami, Florida.
For further information:
LELIA MORDOCH GALLERY:
2300 North Miami Avenue
Miami, Fl 33127
lelia(dot)mordoch(dot)gallery(at)gmail(dot)com
Www:galerieleliamordoch.com
t: 1 786 431 1506
M: 786 201 8394
LEAH POLLER:
e: artallny(at)aol(dot)com or 212 274 1704
Youtube: http://www.youtube.com/watch?v=5x_L1VkuK4Y
Web: http://www.leahpoller.com
Web: http://www.unmadebedproject.com
About Leah Poller: http://www.leahpoller.com
Leah Poller was born in Pennsylvania. She received classical training in sculpture at the prestigious Ecole Nationale Superieure de Beaux Arts, in Paris, France. Partaking of a rich, multi-cultural environment, Poller interacted with foremost members of the international arts communities of France, Spain, Italy and Latin America. Returning to the United States in 1992, she established her studio in Soho and began the series of "101 Beds" which has been exhibited in galleries and institutions in Europe, Mexico, and throughout the United States. In 2009 Poller moved to Sugar Hill, Harlem. She has recently concluded a 12-year project - The 101 Bed Collection and is working on several portrait commissions. She has been featured on CNN, Fox Television and in numerous art publications. She has lectured extensively and held workshops on creativity. She was named Director of "Intercambios de Arte y Cultural Internacionale", a not-for profit furthering cultural exchanges between the Americas and spearheading the restoration of a major twentieth century mural, recently discovered to be the work of Philip Guston.
About the Lelia Mordoch Gallery: http://www.galerieleliamordoch.com
The Lelia Mordoch Gallery first opened in Paris in 1992. In 2009 after several years of active presence in the South Florida international fairs, the Gallery opened in Miami's Wynwood Arts District. Since its opening, the Wynwood space has brought to South Florida a high standard of art, presented with professionalism and a depth of curatorial perspective.