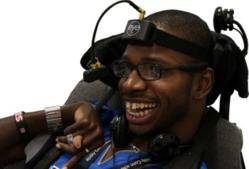 This opens up exciting new possibilities for art professionals, instructors, students--even hobbyists.
Lubbock, TX (PRWEB) June 13, 2012
Grinbath LLC (http://www.grinbath.com), developers of EyeGuide™ research and assistive technology products, now makes it possible for people to paint with their eyes using EyeGuide™ Assist, the world's most affordable eye tracking mouse replacement.
In a brief demonstration video watch EyeGuide™ product manager Jeremy Huston use Assist to capture imagination on screen. After a quick calibration, Jeremy's eye takes over the mouse, allowing him to select colors, paint, even edit. Such a breakthrough, especially given its low price compared to other similar products on the market, means that digital artists can take on the challenge of a new artistic medium, and this opens up exciting new possibilities for art professionals, instructors, students, and even hobbyists. Additionally, a large population of computer users of all ages—particularly those with physical limitations that might previously have kept them from drawing or painting digitally—can now express themselves artistically.
"Painting, doodling, drawing, sketching…these are all such fundamental acts of expression. But a lot of people, children and adults, who want to paint, to do really anything on the computer, have been cut off from the experience, "said Dr. Brian Still, Grinbath CEO. "Assist, because of its low cost and adaptability to any computer, is our solution for them. You can use your eyes, instead of your hands, to be the mouse. It takes a little training, but users can learn, as Jeremy demonstrates, to paint with their eyes, to do really almost anything, such as Internet browsing, research, and game playing."
In the video Jeremy uses Microsoft's Paint application, but any painting or drawing software can be used. Assist, in fact, works on any Mac or Windows system. Based in eye tracking technology, Assist allows a camera worn by the user to record eye movement. That eye movement is correlated back to the computer monitor via linked hardware, thereby acting like a mouse cursor. The cursor moves where the eye looks and the user then is able to initiate commands like clicking, typing, and painting by speaking or blinking.
# # #
Grinbath was founded in early 2010 with the mission to make eye tracking technology accessible and affordable for everyone. Dr. Brian Still, Director of the Texas Tech Usability Research Lab, was approached by a client interested in employing eye tracking research to improve a website's user experience. The problem for Still was that most eye tracking technology, although highly effective, was far too expensive to purchase for his academic lab that literally made just enough to employ a single graduate assistant. In response, Still and a team of graduate researchers developed EyeGuide™ Eye Tracker, the market's first affordable eye tracking research tool, which was released in late 2011. Subsequently, the company saw the need for an affordable assistive device and released EyeGuide™ Assist in early 2012.
If you'd like more information about this topic or would like to schedule an interview with Grinbath CEO Brian Still, please contact Tasha Fowler at 866.931.9418 or by email at tashafowler (at) grinbath (dot) com.