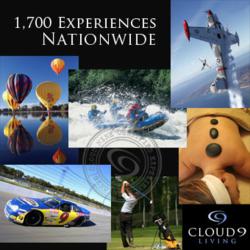 Instead of that 6-pack of craft brew he likes, how about sending him on a 3 day boat and brew kayak tour? Because memories last a lot longer than stuff.
Boulder, CO (PRWEB) June 12, 2012
It's the day before Father's Day and people are scrambling for last-minute gifts. Many will brave the crowds at the mall to buy the wrong size shirt or run to the nearest drug store for a card and Dad's favorite candy. But the creative ones who strive to give dad something spectacular will open their browser and search for the best experience gift for dad like driving a race car, flying a plane or sailing lessons.
The e-Commerce world of Cloud 9 Living makes it easy to shop for unique, last-minute Father's Day experience gifts that will put a smile on Dad's face, help him cross off a bucket list item and create a lasting memory. When visiting Cloud9Living.com, browse through more than 1,700 experiences in 43 regions and find the most excellent gift for any Dad's personality and every gift-giver's budget.
Popular experience gifts for Dads include fighter pilot for a day, drive a stock car, golf lessons with a PGA pro and brewery tours. You can also find a variety of "outside the box" gifts that push the limit of expectation and will trick dad into thinking that you have thought about this gift for weeks. Some of the most unique experience gifts include:

Other unique experiences include dinner in the sky at 18 stories above the ground, a day photographing Colorado's landscape with Men's Journal photographer Tyler Stableford, snow kiting, private DJ lessons and aerobatic biplane rides. All of which leave Dad with lifelong skills or memories, and bragging rights.
Purchasing and giving an experience gift is simple, and it can be done in a matter of minutes. First, choose the perfect gift for Dad, and then select the email certificate option. Either print out the certificate to wrap up or forward it to Dad's email and await his response when he opens the gift of a lifetime. Finally, he can book his own date and time for the experience to ensure it's convenient for him. And later, you can gather to hear stories of his adventure and flip through some photos. Yes, it's a gift that keeps giving.
For the 2012 Father's Day season alone, SheKnows.com already included Cloud 9 Living in the top gifts to give for the outdoorsman, and Stylelist.com has recognized Cloud 9 as a gift for a super star dad. Plus, the Discovery Channel labeled experience gifts as gifts for the dads who have everything, saying "instead of that 6-pack of craft brew he likes, how about sending him on a 3 day boat and brew kayak tour? Because memories last a lot longer than stuff."
So when you are running around searching for that last-minute gift, make Dad think you put some thought into it and gift him the experience of a lifetime!
About Cloud 9 Living
Cloud 9 Living is the leading experience gift company in the United States. Headquartered in Boulder, Colorado, the company offers a portfolio of more than 1,700 experiences in 43 cities nationwide ranging from stock car racing, hot air balloon rides and cooking classes to hang gliding lessons, city food tours and fighter pilot for a day missions. Starting at less than $100 per gift, Cloud 9 Living has something for every taste and budget. It's our biggest smile guarantee.