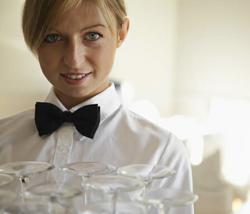 "Our Foie Gras and Wine Tasting event will feature simple, but delicious preparations. Guests will leave with a mini cook book featuring foie gras recipes which can easily be prepared at home."
San Francisco, CA (PRWEB) June 12, 2012
On Thursday, June 21, from 7 – 9 pm, foie gras connoisseurs have an opportunity to taste a selection of foie gras appetizers, all prepared by the founder of Mirepoix USA (enjoyfoiegras.com), a leading online purveyor of specialty gourmet foods and traditional French foods. Six foie gras-based hors d'oeuvres and Black River Caviar will be expertly paired with wines from two award-winning Napa Valley wineries, Bourassa Vineyards and Trefethen Family Vineyards, at the reception which will held in downtown San Francisco.
The menu will include appetizers such as foie gras ice cream on ginger snaps with aged balsamic vinegar, white and dark chocolate foie gras truffles, foie gras cured with lavender sea salt, seared foie gras sandwich with duck bacon, spicy tomato jam and pea shoots, and Wagyu beef and seared foie gras skewers. The appetizers will be prepared with Hudson Valley Foie Gras, and the recipes will be distributed to guests at the event. In addition, Hudson Valley Foie Gras products will be available for purchase at the event while supplies last.
Laurel Pine, Mirepoix USA founder states, "Our Foie Gras and Wine Tasting event will feature simple, but delicious preparations. Guests will leave with a mini cook book featuring foie gras recipes which can easily be prepared at home."
Suggested wine pairings for each appetizer will be offered, though guests will be encouraged to determine their own perfect match, choosing from a selection of premium Napa Valley wines from Bourassa Vineyards and Trefethen Family Vineyards.
Bourassa Vineyards, a boutique Napa valley winery that produces only 3,500 cases per year, began producing its award winning wine shortly after Robert Mondavi encouraged proprietor Vic Bourassa to enter the winemaking field. Mondavi was impressed with Bourassa's homemade Napa Valley Pinot Noir. Bourassa Vineyards now produces six varietals, all painstakenly hand-crafted in small lots. The winery carefully creates rich, complex blends using grapes from premiere, hand-tended Napa Valley vineyards that showcase the terroir that has become so well known throughout the world.
In 1968, Eugene and Catherine Trefethen purchased seven farms surrounding a magnificent, but run-down, 19th-century winery in southern Napa Valley and created Trefethen Family Vineyards. The couple's intention was to sell all their grapes, but their son John had other ideas. In 1973, aided by his new bride Janet, John produced Trefethen's first commercial wine. Just three years later, the winery's 1976 Chardonnay earned "Best Chardonnay in the World" honors at the 1979 Gault Millau World Wine Olympics in Paris. True to the family's vision of creating an acclaimed wine estate, they have never purchased outside grapes and are leaders in sustainable winegrowing. Today, the Trefethen family's third generation, Loren and Hailey, assist their parents in continuing the family tradition of passion for the land, its people and the art of crafting exceptional Napa Valley wines.
A limited number of tickets are still available for Mirepoix USA's Foie Gras Tasting and Wine Pairing event in San Francisco, on June 21, 2012 from 7 – 9 pm. Tickets are available for purchase on the Mirepoix USA website at http://www.enjoyfoiegras.com. Admission is $65 per person.
The event will be held just over a week prior to July 1, 2012, the date on which selling or producing foie gras in the state of California will be banned.
Mirepoix USA, formerly based in California, is now operating from Reno, Nevada in order to comply with California State Senate Bill No. 1520, known as the California foie gras ban. The company began marketing foie gras and other traditional French foods in 2004, and currently offers over 40 foie gras selections. In recent years the online retailer has expanded product offerings to include French and Italian truffles, caviar, Wagyu and US Kobe beef, French cheeses, and a wide selection of gourmet gift baskets and gourmet food.