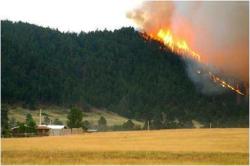 If it weren't for the markings on the engines you would never know the difference", said Former Region 6 USFS Fire Operations Director Jim Furlong of the capabilities of private industry.
Lyons, OR (PRWEB) June 12, 2012
As wildfires rage in many western states with reports that resources are stretched thin, many wildfire suppression resources sit idle. Over 10,000 private trained wildland firefighters are ready for assignment; however, to date very few of them have been utilized. Over 40% of the resources used by the federal agencies on fires have been professional private resources historically. Many fire contractors have within their ranks many years of fire experience in management positions including retired agency fire personnel. These resources are available to help supplement agency resources in their efforts to suppress wildfires.
"The Agencies work under the Incident Command System which is the best Emergency Response System in the world and gives them the ability to provide swift response to wildfires and staff the fire up rapidly if the agency determines that is appropriate. NWSA member's companies offer cost effective resources which meet or exceed the highest agency standards in training and can be dispatched rapidly to protect lives, land, and property," said Deborah Miley, Executive Director of the NWSA. "We like everyone have seen a change in National Fire Policy and the way resources are utilized on fires but the capabilities for manpower have not changed significantly within the private industry."
The National Wildfire Suppression Association represents over 250 private wildfire suppression companies across the US. Our members can field up to 165 - 20 person type 2 hand crews, 32 Type 2 IA National hand crews, over 600 pieces of water handling equipment, kitchen and shower units, and a cadre of other resources with a workforce of over 10,000. These resources are call when needed that makes us a great value to the agency and the taxpayer. As Jim Furlong, Retired USFS Region 6 Assistant Fire & Aviation Director said, "If it weren't for the markings on the equipment you would not be able to tell the difference."
View our wildfire video.