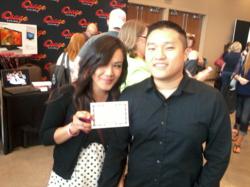 PartyPOP.com features over 2 million highly accomplished and professional companies in the event planning industry.
(PRWEB) June 12, 2012
PartyPOP.com recently announced free wedding invitations and an RSVP website for any engaged couple in the United States, Canada and the United Kingdom. The company has re-purposed their 2012 marketing budget in hopes of building brand awareness and loyalty. According to reports from within the Southern California based company, it's working.
PartyPOP.com features over 2 million highly accomplished and professional companies in the event planning industry including: David Christopher Orchestra, Star Party & Tent Rentals, and Secrets in a Bottle.
The David Christopher Orchestra (DCO) is based out Philadelphia, Pennsylvania. With over 25 years of experience, this group of five to ten musicians provides live music and entertainment for weddings, parties and special events. From 40's Big Band, Jazz, Swing, Oldies, Disco and Motown, to today's classics and rock & roll, the David Christopher Orchestra provides a range of music to complement any occasion. The orchestra's female vocalist, Chel Rae was voted Best Vocalist in Atlantic City by the "At the Shore" news.
DCO is available for all types of event including weddings, corporate functions, anniversaries, award nights, banquets, bar/bat mitzvah's, birthday parties, country club events, college events, cruise ships, casinos, dinner dances, festivals, Chamber of Commerce events, fundraisers and community events. They have also performed for many themed parties including but not limited to: 70's Disco, Country Western, Sock Hop Oldies 50's, White Ball, James Bond Casino Night, Island Luau, Pool Parties as well as traditional themed events for Christmas, Halloween, Mardi Gras, Cinco de Mayo, Sports team themed events and New Year's Eve Gala celebrations.
DCO's live performance reveals a group of talented, innovative, disciplined musicians with a profound, down to earth, often comedic style which exudes confidence and charisma to satisfy all audiences. More information can be found online at [http://www.partypop.com/v/4001785
Star Party & Tent Rentals is a Full Service Party Rental company located in Inwood, NY. They accommodate all party, wedding, and special events needs. Star Party Rentals offers top quality equipment and works with customers on a personal basis to ensure complete satisfaction. Trained staff are on hand to help customers come up with ideas for their events and to provide the equipment necessary to bring them to pass. These party professionals provide event consultation, location recommendations, and a detailed event diagram using PartyCAD computer software.
Star Party & Tent Rentals has grown from a company providing just tents, tables, and chairs to an interstate provider of complete event services. The company has participated in events of all different types and sizes from the most intimate wedding for 75 guests to tented fundraisers for thousands of guests and social events accommodating over 40,000 people. From intimate home parties to elegant outdoor weddings and corporate events, Star Party Rentals works with customers to help provide a truly memorable experience. More information can be found online at: http://www.partypop.com/v/4058147
Secrets in a Bottle based out of Houston, TX provides cardio classes and dance parties (including pole fitness, Zumba, hip-hop, pop, free-style, disco, latin, bollywood, swing dance, belly dance, and many more dance styles). The focus is on a total body workout that is fun, effective, and easy to follow. Pole Dancing has turned into a fitness sport that is performed by both men and women and it requires an amazing amount of physical fitness and strength. According to the Pole Fitness Association, "Over 50 countries worldwide take part in lessons, workshops, conventions, expos, competitions and teacher training." They are currently petitioning to have pole dancing considered as an Olympic sport! More information can be found online at http://www.partypop.com/v/4308576
About PartyPOP.com :
PartyPOP is the largest party, wedding and event planning online network.
Before the Internet era, the professionals at PartyPOP.com were successful hands-on party planners and special event producers. For more than a decade PartyPOP has translated 30 years of party planning experience onto the Internet. Millions of vendors are listed on the network consisting of 60+ websites and tens of millions of customers have used the network to plan their parties, weddings and events. PartyPOP.com also provides party and event related tips, themes and ideas, as well as a free full wedding planning software called Seating Arrangement.
About Free Printed Invitations by PartyPOP.com:
PartyPOP provides every bride and groom across the USA, Canada and the U.K. with free beautifully designed wedding invitations, printed on 80lbs card stock paper with matching envelopes and wedding website. Even door to door shipping is included at no cost. There are no hidden fees, no obligations to buy and no strings attached!