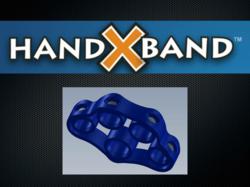 West Chester, PA (PRWEB) June 13, 2012
Innovative X-Bandsions, LLC, a start up that develops innovative fitness and rehabilitation products, announced the launch of Hand X Band™ (pat. pending). Hand X Band™ was developed to address an underutilized muscle group, the extensors of the hand & forearm. This muscle group's primary responsibility is the opening of the hand and is the natural, opposing muscle group of the flexor muscles primarily responsible for gripping. "The muscles that extend your fingers are often disproportionately weaker than the muscles that flex them, and that imbalance could be causing your elbow discomfort." - Men's Fitness, October 2008.
Overusing muscles, specifically flexors of the hand and forearm, while under using their naturally opposing muscles, specifically these extensors, can increase the likelihood of repetitive motion disorders. "Repetitive Motion Disorders (RMD) are a family of muscular conditions that result from repeated motions conducted during the course of normal work or daily activities, such as typing, texting, driving, stress balls, mechanics, as well as recreational activities, cycling, gardening, etc. RMDs include carpal tunnel syndrome, tennis elbow, golfer's elbow, and tendonitis. RMDs are typically caused by too many uninterrupted repetitions of a motion. Many of these are caused by repetitive, unopposed gripping." states Scott Hughes, MPT.
Hand X Band™ was developed not only to help prevent injury, but also to enhance performance. A proper grip is essential in numerous sports, including golf and tennis. It is important to ". . . comprehensively train every muscle group from the elbow down, particularly the forearm extensors – the muscles that open your fingers. Strengthening these muscles alone will improve grip." - Men's Fitness, September 2008.
Like many start ups, Innovative X-Bandsions, LLC has turned to crowd funding to launch Hand X Band™ on http://www.peerbackers.com. "We see peerbackers as a fantastic way to raise funds as well as demonstrate demand." states Co-Founder, Tony Mauro.
About Innovative X-Bandsions, LLC
Innovative X-Bandsions, LLC was founded in 2008 to develop, market and sell products in the Wellness Industry, specifically for general fitness, sports performance, strength training, rehabilitation, injury prevention & / or stress reduction. Our flagship product, Hand X Band™ (pat. pending), addresses an underutilized muscle group, the extensors of the hand, wrist & forearm. Numerous products exist to develop the gripping, flexor muscles of the hand, wrist and forearm. Few devices exist to facilitate strengthening of the opposing, extensor muscle groups in the hand, wrist and forearm which open or expand the hand.
About peerbackers
peerbackers is a new way to fund entrepreneurs. It is an online funding platform that allows business owners to raise capital from their "peers" – in small increments – in exchange for tangible rewards to those who contribute. It was founded by Sally Miller Outlaw and Andrew Rachmell of Palm Beach County, Florida.
"We are tackling the # 1 pain point for millions of entrepreneurs – raising the capital they need to start or grow their business. Good business ideas don't always attract the cash they need from traditional financing sources. Consequently, peerbackers offers another approach based on crowd participation", said Sally Outlaw, Co-Founder of peerbackers. "It's also a guilt-free way of reaching out to friends and family to support you – it takes the awkwardness out of it. You can now send folks the link to your peerbackers funding page and they can back you or not – and if they do, they get a reward!" adds Andrew Rachmell, Co-Founder of peerbackers and Director of Business Development.