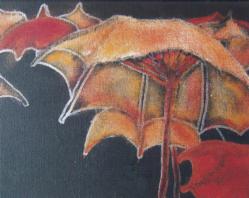 Those who are Different, those who are Artist
those who Hear their whispered callings
All those we call
Misfits in this world
Los Angeles, CA (PRWEB) June 11, 2012
We are pleased to announce that on Thursday night, June 14, 2012 David Kumetz, a severely autistic artist will be exhibiting his original work at the Los Angeles Art Walk in downtown Los Angeles, California as part of Through the Eyes of Autism.
Through the Eyes of Autism is a concept promoting the developmentally disabled artist who otherwise, would not have an opportunity to present their work to the world. Painters, sculptors and other artists and poets will have a platform to be seen, heard and recognized. They will be supported by the fellowship of other musicians and noted artists.
Through the Eyes of Autism is looking for future sponsors along with new artists willing to present their art to a global community. This is a unique opportunity. These artists will bring fresh insights, perspective and new art while earning an income doing the work they love.
At the age of 22 David still has limited oral language skills. However, he has always had extraordinary visual skills. As a small child David would not speak. Instead he demonstrated a compelling need to express himself through the medium of art. David started with a complete stick drawing of Mickey Mouse at the age of two. We now understand this as "special abilities" associated with Autism. He has never had any formal training, and professionals and teachers have said he has his own unique techniques and style. He works in many mediums including drawing, water colors and acrylics. David draws every day and has an affinity towards French Impressionists, Vincent Van Gough and Eyvind Earle. He also finds satisfaction in movie posters from all time periods and has enjoyed creating his own imagery from this medium.
The LA Art Walk is located on 334-16 South Main Street in LA and is held from 6pm- 10pm. The purpose of this event is to give local individual, talented artists and craftsmen an opportunity to display their art.
To learn more about David Kumetz and his artwork visit http://www.biscookie.net.