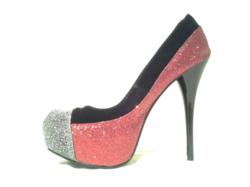 Atlanta, GA (PRWEB) June 14, 2012
Shoe Game Mean Apparel LLC announced today the upcoming launch of its brand new shoe site.
Shoe Game Mean—the name of the store – is an Atlanta-based shoe store that is entirely online, offering unique and affordable shoes and accessories rarely found anywhere else. The site is officially set to launch Friday June 15, 2012 at midnight.
Though shoes are the main product, Shoe Game Mean will offer other apparel such as handbags and jewelry. The store will expand to begin selling men's wear in the fall.
During the entire month of March, Shoe Game Mean will run a grand launching sale on select apparel. Atlanta customers can enjoy free shipping.
Shoe Game Mean will also host exclusive events, including private and public shoe parties and talent searches for shoe models throughout the country.
Visit Facebook.com/shoegamemean and Twitter.com/shoegamemean for details and announcements on the site launch, model searches and other events.
CONTACT: Tia Tappan
PHONE: 404-602-2753
EMAIL: info(at)mpactmediamarketing(dot)com