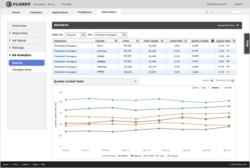 Flurry estimates that during 2012 app marketers will spend over one billion dollars worldwide on app traffic acquisition without the ability to measure user quality, assign attribution or easily determine ROI
San Francisco, CA (PRWEB) June 12, 2012
Flurry, the leading mobile app measurement and advertising platform, today announced Flurry Ad Analytics, the industry's first analytics-powered service for mobile app marketers to measure the effectiveness of traffic acquisition campaigns across ad networks. The service enables app marketers to track the quality, follow-on behavior and return on investment of traffic sourced from campaigns across major mobile ad networks including Apple iAd, Google Admob, Millenial Media, InMobi, Jumptap and Flurry AppCircle.
"Flurry estimates that during 2012 app marketers will spend over one billion dollars worldwide on app traffic acquisition without the ability to measure user quality, assign attribution or easily determine ROI," said Simon Khalaf, Flurry president and chief executive. "Flurry Ad Analytics empowers app marketers to change the way they think about acquisition and focus on quality not just quantity."
Flurry Ad Analytics is built on top of Flurry Analytics, the industry's leading app analytics service, used by more than 70,000 companies across more than 190,000 applications. Leveraging Flurry Analytics, Flurry Ad Analytics automatically tracks clicks and installations, attributing them to the correct campaigns and traffic sources. Moreover, marketers gain deep insight into how acquired consumers behave after they download. With Flurry Ad Analytics, marketers define how they want to measure user quality, including by demographics, intensity of usage or when consumers complete a defined custom event such as monetization or social sharing.
Flurry Ad Analytics will work for any existing Flurry Analytics customer. Every campaign and traffic source created in Flurry Ad Analytics will automatically appear as a segment in Flurry Analytics, enabling marketers to compare the usage per acquired cohort of users in great detail. For example, as shown in the accompanying chart, marketers can measure and compare the 30-day retention of users sourced from different campaigns or traffic sources.
Flurry Ad Analytics is priced on a per installation basis, starting at five cents per install with the price declining per install as volume increases. Flurry Ad Analytics requires integration of Flurry Analytics and will be available in July 2012. To learn more, or sign up for notification of availability, please visit Flurry Ad Analytics.
About Flurry
Flurry is the leading mobile app measurement and advertising platform, powering more than 190,000 apps from more than 70,000 companies. Flurry helps companies grow, retain and monetize high quality audiences in the new app economy.