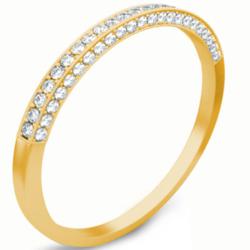 Rose Gold Engagement Rings have proved to be very popular with customers who are looking for a unique engagement ring for their significant other.
Baltimore, MD (PRWEB) June 12, 2012
Rose Gold is not a very common Gold metal. Although Rose Gold has been used in different form of jewelry for few decades, its use was normally restricted to either both necklaces and high-end jewelry or to designer jewelry pieces.
Rose Gold engagement rings were not very common. JewelOcean created an exclusive line of Rose Gold engagement rings this summer to test the market of engagement rings and gauge the customer reaction to Rose Gold metal. JewelOcean.com has now announced that its Rose Gold rings collection has surpassed its sales expectations.
According to Mr. Kanu Sin, manager at JewelOcean, the company expected a limited response from the customers for its Rose Gold engagement rings collection. He states that since this collection is very unique and different, the company thought that most of the customers would like to purchase something more common like white gold engagement rings. However the uniqueness of Rose gold is exactly the key ingredient that drove the demand of this collection. Many of the Rose Gold rings were sold out within 1st week, and the company is now updating the designs of Rose Gold jewelry collection to incorporate more designs.
Another major factor for the huge success of the Rose Gold diamond rings collection was the affordable price. Most of the Rose Gold engagement rings were available for less than $1000. JewelOcean also offered different styles of diamond wedding sets and bridal sets that were made in Rose Gold, and they retailed for less than $2000. Since customers were normally used to seeing Rose Gold Jewelry at very high designer end prices, they were pleasantly surprised to see such cheap prices on Rose Gold engagement rings and wedding sets, and therefore, the Rose Gold rings collection exceeded the sales expectation of JewelOcean.
JewelOcean states that since the collection is only offered on limited basis, customers can only order Rose Gold diamond rings on 18k Gold purity. This is different from other white gold and yellow gold engagement rings, where customers can choose between different Gold purity, such as 10k, 14k or 18k. However, JewelOcean states that customers are able to customize most of the Rose Gold engagement rings with their choice of center diamond, including popular shapes such as Princess cut, Round Cut, Oval and Pear shaped diamond engagement rings.
JewelOcean is a leading discount engagement rings retailer. The company specializes in making wedding sets and bridal sets. Customers can find very attractive prices on the its wedding rings collection which is currently on sale. All orders on JewelOcean.com comes with refund policy and free shipping. For more information on Rose gold engagement rings, please visit the company website.