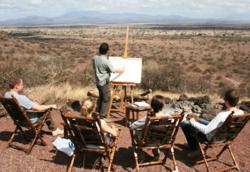 I want to give people an unforgettable experience. Painting animals in zoos can be fun, but being in Africa itself, seeing the animals in their natural environment blows your mind. Your painting takes a big step forward.
(PRWEB) June 14, 2012
It's the same old story, you love Africa, and you teach people how to paint wildlife. How to combine the two? By running Art Safaris in the stunning National Parks of Tanzania, that's how!
Just how did this come about? Gregory has been painting for 20 years, visiting Africa for the first time in 2005, though his partner has been active there for many years raising money for people and projects. "She was the brains behind me going out to Tanzania last year to climb Mt Kilimanjaro for my 40th birthday, and set up meetings with some of her contacts. After climbing Kili, I started to turn some of my daydreams into reality, and I returned twice to hold two solo art exhibitions in Arusha!"
But there was one dream that stood out above the rest for Gregory. To combine his love of teaching and painting and his joy of watching African wildlife on safari. "Painting animals in zoos and from books can be fun, but being there for real, seeing and smelling the animals in their natural environment blows your mind, and painting wildlife from your own photos means your painting takes a big step forward, and you get to relive it all again."
So after holding one of his exhibitions and being the first Artist in Residence at Tanzania's Cultural Heritage Centre, Gregory took the opportunity to research accommodation and to fully plan Art Safaris with a local, experienced operator. " I want to give people an unforgettable experience, to share the stunning locations of Northern Tanzania, to get close to the wildlife for sketching, painting and photography and to do it in style and comfort. My workshops at camp will also share my techniques, to help people capture what they see, and to inspire their own work. I actually don't think of myself as a teacher, but as an artist who shares his way of painting."
Sustainable tourism is also high on the priority list, "Our lodges and camps not only follow eco-tourism guidelines, they are also actively involved in projects that benefit local people, wildlife and habitat."
Now this professional artist is stepping onto the global market and sharing his art with the readers of prestigious International Artist Magazine, on sale around the world. The June/July issue #85 features an eight page article- 'Striving For That Extra Something' about his experiences painting the Maasai people, and highlights his forthcoming Artists on Safari trips. His account follows his success in the previous issue in which his painting was short listed and featured in their competition.
Gregory began demonstrating his skills to art clubs and groups some time ago, but his experiences in Africa have turbo charged his activities, and he has booked demos, workshops and personal tuition classes right up till the end of the year with more art safaris planned for 2013.