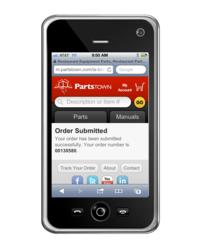 We will contiue to drive change in our industry and deliver innovative solutions for our customers and manufacturers
Addison, IL (PRWEB) June 13, 2012
For the third consecutive year, Parts Town has been recognized by Crain's Chicago Business as one of the 50 fastest growing businesses in the Chicago area. Parts Town is a market leader in restaurant equipment parts distribution and has driven meaningful change in the industry by delivering a unique customer experience and launching innovative technology.
Achieving 508% growth over the past 5 years places Parts Town near the top of the prestigious Crain's Fast 50 list. Parts Town was ranked #9 in 2010 and #15 in 2011, thus achieving the extremely rare honor of being recognized for 3 consecutive years. Parts Town has also been consistently recognized as one of the fastest growing companies in the United States by Inc. Magazine.
"Parts Town is a special place with a truly amazing team," states Steve Snower, President of Parts Town. "We are proud to be included in the Fast 50 once again. This marks another milestone towards the achievement of our mission. We have absolutely massive goals in the coming years and are committed to delivering extraordinary results for both our customer and manufacturer partners."
Parts Town continues to set the pace of change in the restaurant equipment parts industry. When asked how Parts Town has consistently achieved this level of growth, Snower referenced 4 key drivers:
1. A culture of high integrity, passionate team members with the courage to be different.
2. A complete and unwavering commitment to genuine OEM parts and supporting our manufacturers
3. A unique customer experience that delivers extraordinary value to our partners
4. Innovative technology, including partstown.com, the Parts Town App, and Parts Town's mobile optimized website launched in 2011.
"We will continue to drive change in the industry and deliver innovative solutions for our customers and manufacturers. We fully intend to be on this list for many years to come. Honestly, we are just getting started."
About Parts Town
Parts Town is a leading distributor of genuine OEM restaurant equipment parts. Focused on delivering a unique customer service experience and website (http://www.partstown.com), Parts Town customizes solutions for both chain restaurants and food equipment service companies. Parts Town partners closely with the leading manufacturers of commercial cooking, refrigeration, ice, and beverage equipment to improve their parts supply chain, delight their customers, and grow genuine parts sales.