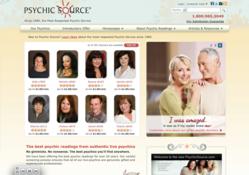 Langhorne, PA (PRWEB) June 14, 2012
One in seven Americans (about 15%) report that they consulted a fortuneteller or a psychic, according to a recent Pew Research Center study (http://www.pewforum.org/Other-Beliefs-and-Practices/Many-Americans-Mix-Multiple-Faiths.aspx), and this proportion has been steady over several decades.
With so many Americans trusting psychics and fortunetellers over the years, why is the reputation of psychic services in the public so often associated with hokey images of gypsies starting into crystal balls and flaming wheels of fortune? One reason is that psychic services themselves perpetuate this imagery.
Now Psychic Source, the most respected psychic service since 1989, has taken a big step to steer away from the garish and the cheesy, and to present members of the psychic community in a more realistic light.
The revamped PsychicSource.com features prominent, professional photographs of each psychic, explanations of the different gifts and tools psychics use, and useful tools and filters to help customers find psychics who fit their needs.
"We have the utmost confidence that our psychic Advisors are providing an important and meaningful service," said Jeni Alexander, Service Operations Director who coordinates the screening and daily communications with Psychic Source psychics. "They help so many people every day, and they deserve respect and recognition for their work."
The customer experience at the new PsychicSource.com has also been revamped to create an all-inclusive member page where customers can monitor how much they spend on readings, add dollars to their account, take advantage of special deals, get in line to speak with busy Advisors, and take notes on readings for future reference. The website also includes daily articles by Psychic Source Advisors and writers about topics ranging from the metaphysical to the ordinary concerns of daily life revolving around relationships, money and personal development. The underlying theme, as captured in the company's brand Manifesto is always one of empowerment, growth and caring insight.
Every Psychic Source Advisor has a personal page on the new site, with a recorded introduction and reviews by customers. With hundreds of reviews, a new visitor to the site can get a very good idea of how each Advisor is regarded by the community.
Maryanne Fiedler, Marketing Director of Psychic Source, says she believes the new website "will provide a long-overdue serious and legitimate platform for psychics to reach a broader audience and for the public to learn about the services psychics have to offer."
About Psychic Source:
Founded in 1989, Psychic Source is the nation's oldest and most respected psychic service. Psychic Source's advisors are experts in astrology horoscopes, numerology, tarot cards, clairvoyant readings, and many other psychic disciplines. Psychic Source believes in its community of authentic Psychics and stands behind the authentic psychic readings they deliver to clients. Visit them online at http://www.psychicsource.com.
For more information, contact:
Maryanne Fiedler, Marketing Director
maryanne(at)psychicsource(dot)com
215-953-8568