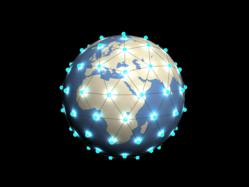 Self-service is growing everywhere, not just the countries we first prioritised. It is a sign of the times.
Sheffield, UK (PRWEB) June 19, 2012
Genkiosk - the kiosk software - is seeing rapid growth in the Middle East and other regions with large migrant workforces, and a high proportion of under-banked, or anywhere that the recession is driving customers to pay bills at the last minute.
Self-service kiosks - normally with touch-screens - offer an easy, accessible way to pay your bills. In many parts of the world they are an attractive alternative to the only other option for the under-banked: standing in line to pay by cash at a counter.
And everywhere they are being used more and more to pay at the latest point possible - often because users are credit stretched. Genkiosk, the kiosk software, manages these networks of kiosks - keeping them up and running to ensure:

users get the service they want - fast and easy
operators maximize uptime - and return on investment.
James Oladujoye, CEO of GWD Media (the makers of Genkiosk) explains: "We first saw the boom in bill payment kiosks in Dubai. Next it was Qatar and Saudi Arabia, where there are also large populations of migrant workers - and people without bank accounts or credit cards. If you could find a way not to make a journey, then line up just to pay cash to a teller, wouldn't you grasp it?"
The kiosks interface with payment systems via an API (Application Programming Interface) - keeping security to a maximum. It is like integrating with the client organisation's own systems.
After analysing the market potential globally, Genkiosk is now penetrating new markets - based on statistical assessment of the opportunity. GWD Media includes Indonesia and the Philippines amongst the next prime geographical targets - but James Oladujoye, CEO of GWD Media, also explains how the global downturn is changing the dynamics: "Today, you can go anywhere - even a rich country like the USA - and you will find people who are having a very hard time. We are seeing users paying their electricity bills on kiosks with cash at the very last moment before they are cut off. This is happening everywhere, not just the countries we first prioritised. It is a sign of the times."
Kiosk deployments provide services via:

single application units (with just one purpose, say to pay a specific utility bill)
multiple application kiosks (providing a variety of services via the same terminal).
Trials are used to confirm the right mix of the two, but typically:

multiple application makes more sense in retail and public environments where the goal is to - maximise business and attract additional customers
single application is more suited for queue-busting (say to improve efficiency and service inside the branch of a utility company.)
Genkiosk collects, manages and analyses all the data so that operators can:

keep on top of performance
confirm further commercial opportunities for expansion.
The result is that fact-based evaluation determines how large - and how fast - estates grow. Resources can be targeted at the locations - and services - that provide best service and greatest return.
And Genkiosk itself operates in the Cloud, which means that even remote areas have access to the technology.
The kiosk software that started with Internet access has now expanded to include:

Paying bills
Printing photos
Accessing the Internet or information
Transferring money
Browsing and shopping.
And every country has its own specific needs: self-service is just a way of making things quicker and easier.
Long established in North America and Europe, high growth areas in recent years have included the Middle East and the Pacific Rim. Examples include the UAE and the Island of Fiji, where Genkiosk is already well established
After launching in Europe, it expanded first to the Americas, then the Middle East and beyond, going global via multinational customers and now with direct clients as far afield as Fiji in the South Pacific.
Genkiosk is delivered via the Cloud, maximising service and availability in every region of the world: whatever the infrastructure.
VeoVend, the sister of Genkiosk, provides the same monitoring and management services for more traditional vending (snacks, drinks, beverages, retail.) A hardware plug-in, with mobile phone SIM, gives online access to even the most basic vending machine.
GWD Media is headquartered in Sheffield, UK, and operates worldwide.