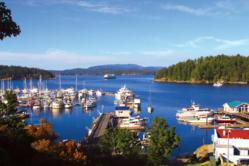 Following the terrific response to our Alaska and Columbia & Snake River itineraries, Puget Sound was a natural next step. - Timothy Beebe, Vice President, American Cruise Lines
Guilford, CT (PRWEB) June 12, 2012
GUILFORD, CT – June 12, 2012 – American Cruise Lines (http://www.americancruiselines.com) announced today the addition of a new itinerary for 2013 – Puget Sound and San Juan Islands. Offered aboard the 100-passenger American Spirit, roundtrip cruises from Seattle will showcase the most beautiful inland waterways on the West Coast. Puget Sound, which will include the San Juan Islands, will be the newest offering in American Cruise Lines' Pacific Northwest cruise collection, which includes Alaska's Inside Passage and the Columbia & Snake Rivers.
"It is with great pleasure and anticipation that we announce these new Puget Sound and San Juan Islands cruises," said Timothy Beebe, Vice President of American Cruise Lines. "We take pride in offering passengers the best small ship cruising experience on the most unique itineraries, a winning combination that has continued to bring our passengers back time and again."
American Cruise Lines' Puget Sound and San Juan Islands itinerary will introduce guests to the pristine areas of the Pacific Northwest and the San Juan Islands with unique and breathtaking cruises, unparalleled in scenic and cultural diversity. Guests will discover wildlife, historically rich ports, and enjoy intimate contact with the natural wonders and active people of these regions. Ports of call for the Seattle roundtrip will include:
Seattle, WA
Anacortes, WA
Friday Harbor, WA
Port Townsend, WA
Poulsbo, WA
Seattle, WA
Inaugural cruises are slated to begin on April 6, 2013. New and returning passengers can expect all the modern amenities aboard the American Spirit – elegant surroundings, oversized staterooms and bathrooms, private balconies and elevators, along with exceptional locale-inspired cuisine and highly personalized service.
"Following the terrific response to our Alaska and Columbia & Snake River itineraries, Puget Sound was a natural next step," added Timothy Beebe, Vice President of American Cruise Lines. "Our further expansion into the Pacific Northwest adds even more variety to the unique, yet close-to-home cruises we offer. We look forward to welcoming new and past guests aboard to discover this beautiful region of the West Coast."
About American Cruise Lines
American Cruise Lines, the largest U.S. cruise company, operates the newest fleet of small ships in the industry and offers more than 35 unique itineraries along the inland waterways and rivers of the Pacific Northwest, Alaska, the Mississippi River System and the U.S. East Coast, from New England to Florida. To learn more about American Cruise Lines, visit our Website at http://www.americancruiselines.com or call (800) 814-6880. Also find us on Facebook and Twitter.
###