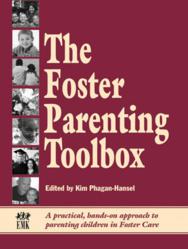 A practical, hands-on approach to parenting children in foster care.
(PRWEB) June 13, 2012
Parenting children is often labeled as one of the most difficult jobs. For foster families who parent children that have experienced early abuse, neglect and trauma, parenting can be even more challenging. With more than 420,000 children living in out-of-home placements today, there is a great need for well-qualified, prepared foster parents to take in traumatized and hurting children at a moment's notice.
"I often hear parents (foster and biological) say, 'I've tried everything, and I just can't do this anymore,'" said Rhonda Sciortinto, child welfare specialist for Markel Insurance Company. "It's so sad when good people burn out of foster care, exhausted and frustrated."
Released earlier this year, The Foster Parenting Toolbox, offers those parents a useful tool and guide in their journey as professional parent. A compilation of stories from foster parents, social workers, biological parents, former foster youth and child welfare advocates, The Foster Parenting Toolbox provides a wide range of viewpoints on various topics.
"In situations like this...I wish every, single parent had a copy of The Foster Parenting Toolbox," Sciortino said. "There are people who have successfully dealt with similar situations, and have told about it in this amazing resource. I encourage every foster parent to read this book before deciding to quit."
For Sciortino, who spent part of her childhood in foster care, she knows the importance first-hand of having a well-trained, loving foster parent in your life. Sciortino said she believes The Foster Parenting Toolbox serves as an important training tool for those foster parents and help them gain insight to some of the behaviors and challenges children from tough beginning often face.
From a step-by-step guide to becoming a foster parent and tips for protecting yourself against false allegations to helpful ways to transition kids and ways to work with birth parents, The Foster Parenting Toolbox is an all-inclusive guide to foster parenting. And woven between the nuts and bolts articles about foster parenting are stories from those who have lived the experience – foster parents who have had to say goodbye to children they loved, former foster youth who offer words of wisdom to foster parents, and caseworkers and support people who have learned from the daily interactions with caring, humble people who raise tough and traumatized children.
"This book is the culmination of more than 10 years of work as editor of Fostering Families Today magazine," said Kim Phagan-Hansel, book editor. "I'm pleased to provide foster parents throughout the country with a resource they can use day or night, through hard times and joyous celebrations. My hope is that everyone who reads this book will come away with valuable insight into how to improve the lives of children who have the unfortunate experience of living in foster care."
The Foster Parenting Toolbox is available online at http://amzn.to/y4x6pg for $29.95. For review copies or to interview the editor and those who entered submissions, contact EMK Press Publisher Carrie Kitze at 732-469-7544.