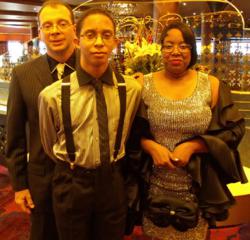 The way Omonpee's poem creatively illustrated her strength, courage and humor...is truly amazing. -- Dr. Stephen Shore, Asst. Prof., Special Education, Adelphi University
Arlington/Fort Worth, TX (PRWEB) June 13, 2012
Autism on the Seas (AotS), a niche travel company catering to vacationing families with special needs, and Skyeward Bound Ranch (SBR), a non-profit charity dedicated to providing social and recreational interaction for specially challenged youth, jointly announced today the winner and runner-up of the groups' first regional "I Need a Special Vacation" essay contest. The challenge kicked off in the state of Texas in April to help promote SBR's national grant program in partnership with AotS.
Texas region essay contest grand prize winner, Omonpee Petcoff of Arlington, and her family, will enjoy a special needs cruise vacation with Autism on Seas. Equally exciting,Autism Listens in Texas, a local Ft. Worth non-profit autism support group, was selected by Mrs. Petcoff to also win a cruise. SBR and AotS hope they will be able to use the cruise as a means to raise funds for the organization. Essay contest runner-up, Brooke Newman-Hawley of Tomball, and her autism support group of choice, Desperate for Respite in Houston, will both receive a 30% off gift certificate for an Autism on the Seas cruise or land resort vacation.
"The essay submissions were all compelling in one form or another," says contest judge, Dr. Stephen Shore, Assistant Professor, Special Education at Adelphi University. "The way Omonpee's poem creatively illustrated her strength, courage and humor as she tackles ASD in both her husband and child, and then goes on to beat cancer is truly amazing."
"Brooke's essay is poignant. We see how the high rate of divorce for parents in this community shows the difficulty of this lifestyle," says contest judge, Samir Patel, CEO, Oxyhealth. "Yet, her husband is a man who CHOSE this life and supports his family. His giving attitude has rubbed off on their child's neurotypical brothers, as well. From one father to another, he is definitely a hero."
With the grant program officially underway, regional contests will continue to rollout across the U.S. through 2013. By partnering with Autism on the Seas, Skyeward Bound Ranch can now offer children with special needs and their families from all over the U.S. an opportunity to get away and enjoy a sense of fun and normalcy. This will be a first for many of these families and SBR and AotS are grateful to be able to bring happiness to these most deserving folks.
SBR and AotS will kick off the second regional contest open to special needs families in the state of Florida on Wednesday, June 13th.
Grant Program - Open for ALL Special Needs Families
The SBR Grant Program is a program designed to financially assist families wishing to vacation with Autism on the Seas Cruises and Resort Stays who meet criteria set forth by Skyeward Bound Ranch. The grants may be awarded in any amount up to the full vacation cost for a family, minus the deposit*.
A Request Form for SBR Grant applications can be found on the AotS website. Completed grant applications are screened and submitted for review to a five-person panel to determine each candidate's eligibility by Skyeward Bound Ranch.
Qualifying applicants will be notified of their Grant status within 30 business days of the date the completed application is received by Skyeward Bound Ranch.
Check out the AotS or the SBR website for other financial assistance programs, such as the Gift Card Program, to assist families currently booked on an Autism on the Seas Cruise or Resort Stay with Staff.
About Autism on the Seas
Founded in 2006, Autism on the Seas (AotS) is the flagship division of Special Needs on Vacation, LLC. AotS is a niche travel company that organizes and staffs cruise and land resort vacations for families with special needs. Our specially trained compassionate staffers provide care, attention and fun, as appropriate, to our special needs vacationers' condition, comfort-level and ability. Our staff is accustomed to working with special needs passengers with a broad range of conditions, including autism spectrum disorders, Down syndrome, cerebral palsy and other cognitive and intellectual developmental impairments.
AotS has a close-knit fan-base on Facebook and they love to hear success stories from families who have traveled with them – or are planning to! Catch us on Facebook at http://www.facebook.com/autismontheseas and on Twitter @AutismontheSeas.
Skyeward Bound Ranch is a Non-Profit, Tax Exempt 501(c)3 Charitable Organization dedicated to providing social and recreational interaction of specially challenged youth. Your support contributes significantly to our efforts to continue building an educational and entertaining program of the highest quality and national distinction with established and successful youth camps around the state of Texas. You are also serving as a standard of committed civic responsibility inspiring others to support important causes as well. Website: http://www.skyewardboundranch.org
*All families applying for financial assistance under the Skyeward Bound Ranch Grant Program are required to place their own deposit to secure their cruise/resort stay, upon being notified by Skyeward Bound Ranch that they have been awarded a grant. Vacation deposits usually range from $200.00 to $500.00 per cabin/room based the length of the cruise or resort stay.