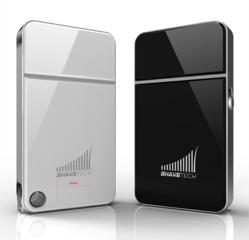 The new standard of on the go shaving offers a sleek, lightweight design that gives users a convenient USB charging option.
Austin, Texas (PRWEB) June 13, 2012
Any man who has ever tried to get a good, close shave while traveling knows just how frustrating the endeavor can be. Come June 8, 2012, the way the on-the-go guy thinks about shaving will forever change for the better with the launch of ShaveTech. This new standard in shaving offers a sleek, lightweight design that gives users a convenient USB charging option that will save them not only space but also the aggravation of finding a free electrical outlet.
It used to be that the man who wanted a baby-smooth face while on the road had one of two options, neither one of them very appealing. Either he had to carry around a bulky electric shaver and its cumbersome and space-hogging electrical charger, or he had to resort to dry razors and all the bulky essentials that go with it. And if he chose the former option, he also had to worry about finding a free electrical outlet before he could even begin.
Perhaps all of this is why ConsumerSearch, an online product review and report provider, estimates that only 30 percent of men currently use electric shavers. That mindset is in for a major transformation when ShaveTech hits the shelves on June 8th, 2012. The premium power source USB shaver, ShaveTech can be powered up by plugging it directly into any USB port. When not in use, the USB plug flips back inside the shaver for streamlined, smartphone-size portability. What is more is if traveling outside of the U.S., ShaveTech has the added benefit of not needing an electrical converter, simply charge it up while passing layover time on a laptop. A single full charge holds for 30 minutes of shaving.
ShaveTech retails for $39.99 and is available for purchase online starting June 15th at http://www.shavetech.com and at select retailers in the U.S. and Canada. Wall adaptor is available for purchase.
For samples or high-resolution images, please visit http://www.shavetech.com or contact Dawn Ryden at 512-502-1731 or at Dawn(at)AvalonPRGroup(dot)com.
About ShaveTech
ShaveTech, the new standard in shaving, is the only power source USB shaver on the market. Its sleek, non-electric charging design renders it easily portable for lightweight traveling. Available in both black and white color options, ShaveTech is a must-have travel accessory for today's tech-savvy man who is always on the move.