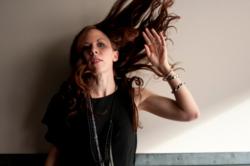 There are few opportunities to develop one's work as a young opera composer, and there is no better learning experience than writing a new work with the help of ambitious and forward-thinking companies.
- Missy Mazzoli
Philadelphia, PA (PRWEB) June 13, 2012
The Opera Company of Philadelphia, collaboration with Gotham Chamber Opera and Music-Theatre Group in New York, is proud to announce that composer Missy Mazzoli has been selected as its second Composer In Residence (CIR). Mazzoli, already a prolific composer who is currently working on her second full-length opera, was chosen from over 100 applicants for the position and now has the opportunity to follow a personalized, three-year development track focused on the advancement of her career as an operatic composer.
Funded over five years by a $1.4 million grant from The Andrew W. Mellon Foundation, the goal of the CIR program is to foster tomorrow's American operatic masterpieces through personalized creative development and intensive, hands-on composition opportunities for today's most promising composers. To enhance the comprehensive and collaborative nature of this program, the Opera Company of Philadelphia has partnered with New York's Gotham Chamber Opera, which specializes in innovative productions of intimately-scaled, rarely-performed works, and Music-Theatre Group, well known for their commissioning and development of new works.
"We are thrilled to be working with Missy Mazzoli in the development of her unique and eclectic operatic voice," shared Opera Company of Philadelphia General Director David B. Devan. "Missy has already proven herself as a significant composer with stories to tell, and this program will connect her with world-class professionals who can mentor and collaborate with her to support her continued growth as an artist."
The Composer In Residence position combines its individualized plan of study with a living stipend and health benefits. Mazzoli shared, "I am thrilled and grateful to have been chosen for the Composer In Residence Program. There are few opportunities to develop one's work as a young opera composer, and there is no better learning experience than writing a new work with the help of ambitious and forward-thinking companies. I welcome the opportunity to hone skills like scene pacing, development of a libretto from scratch, and how to best workshop a new piece; these are skills not typically taught in conservatories and I plan to make the most of these tremendous resources over the next three years."
Mazzoli, 31, has produced new works for eighth blackbird, Kronos Quartet, the League of Composers Orchestra, violinist Jennifer Koh as commissioned by the LA Philharmonic, and the Santa Fe Chamber Players, and has received additional commissions from Carnegie Hall and the Whitney Museum of Art. The winner of four ASCAP Young Composer Awards and a Fulbright Grant to the Netherlands, she was recently deemed "one of the more consistently inventive, surprising composers now working in New York" by The New York Times. In February 2012, she premiered her first full-length opera, Song from the Uproar, at The Kitchen in New York. The Wall Street Journal called the work "powerful and new", while The New York Times said that, "in the electric surge of Ms. Mazzoli's score you felt the joy, risk, and unlimited potential of free spirits unbound." Her new, 25-minute opera entitled SALT, a multi-media collaboration based on the biblical story of Lot's wife, will premiere at UNC Chapel Hill in October 2012. Mazzoli attended the Yale School of Music, the Royal Conservatory of the Hague, and Boston University, and is published by G. Schirmer.
Gotham Chamber Opera Music Director Neal Goren, currently in Philadelphia conducting Dark Sisters, a co-commission and co-production between the three CIR companies, shared, "Gotham Chamber Opera is delighted to collaborate with Missy Mazzoli as its second Composer in Residence. Hers is a totally individual, modern voice, which we hope to help achieve its full potential in the realm of opera."
"In Missy, we have found a trailblazing artist in the early stages of an important operatic career," Music-Theatre Group Producing Director Diane Wondisford said. "Having access to many different artistic and production perspectives at this stage will be an invaluable experience as she advances her craft."
For the Opera Company of Philadelphia, the Composer In Residence program complements the American Repertoire Program (ARP), a commitment to producing an American opera in each season for the next decade, announced in 2011. This month's Dark Sisters by Nico Muhly and Stephen Karam, which runs through June 17th at the Perelman Theater and coincides with the national OPERA America Conference which the Opera Company of Philadelphia hosts from June 13-16, marks the launch of the program. The next work in the American Repertoire Program will be Silent Night in 2013, featuring music by composer Kevin Puts, for which he won the 2012 Pulitzer Prize in Music, and a poignant libretto by Mark Campbell. Additional announced co-commissions include Oscar by Theodore Morrison, with a libretto by the composer and John Cox, slated for the Academy of Music in 2015; and Cold Mountain by Pulitzer Prize-winning composer Jennifer Higdon with a libretto by Gene Scheer, which is produced at the Academy in 2016. Both Oscar and Cold Mountain are co-commissioned and co-produced with The Santa Fe Opera.
Mazzoli will begin her appointment on September 1, 2012. She joins Composer In Residence Lembit Beecher, who was appointed in September 2011. The first year in the program has given Beecher a rare and in-depth understanding of the development and production of opera through integral involvement in the rehearsal process for six operas with the three CIR companies. He has also composed music for two scenes written especially for him, one by Chadwick Jenkins and one by Silent Night librettist Mark Campbell in an ongoing "libretto laboratory" program. Beecher completed a close study of the operas of Verdi with Gotham Chamber Opera Artistic Director Neal Goren, and took voice lessons to develop his ability to write for the voice. Other New York performances included a January 2012 run of his Three Immigrant Songs at the DiMenna Center, and performances of his Heart Rhythm Trios in collaboration with Gotham Chamber Opera at Le Poisson Rouge. Most recently, he led an Opera Company of Philadelphia "Random Act of Culture" with a fun, community performance of a duet from the Magic Flute – which he scored using found items at IKEA to double as a percussion ensemble. The performance is available for viewing at youtube.com/operaphila.
###
To learn more about the Opera Company of Philadelphia, please visit us at operaphila.org.
To learn more about the Gotham Chamber Opera, please visit gothamchamberopera.org.
To learn more about Music-Theatre Group, please visit musictheatregroup.org.