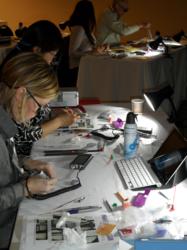 Madison, WI (PRWEB) June 14, 2012
The best dentists know that they must keep learning to stay at the top of their field, so the American Academy of Cosmetic Dentistry (AACD) is offering dental professionals another amazing educational opportunity to bring them closer to the ideal smile—this time, focusing on indirect ceramics.
On September 28-29, the AACD will host its second meeting of "AACD Unplugged," an all-new learning experience series at its Executive Office in Madison, WI. Dr. Michael Koczarski will headline the meeting, titled, "The Bread, Butter, and Caviar of the Cosmetic Practice."
Creating systems and procedures that allow for the busy general practice to incorporate the cosmetic procedures within the general practice is key to maintaining a healthy viable general practice that can sustain the more romantic side of the elective cosmetic practice. Join Dr. Koczarski as he shares the steps he takes, from A to Z, in sustaining his cosmetic accredited practice within his vibrant general practice.
Attendees will:

Understand the make-up of a cosmetic practice within a general practice
Master principles of total and self-etch adhesive dentistry
Learn simple, yet effective methods to create beautiful posterior direct and indirect restorations
Understand Smile Design principles to improve your case Type I and V results
Learn techniques to transfer a wax up to a direct intra oral mock up to be used as a guide in prepping anterior veneers
Learn to avoid the 'Prep and Pray' approach in their next veneer case
AACD Unplugged offers attendees AACD's contemporary and dynamic approach to cosmetic dental continuing education with one-on-one training in a small group environment. Attendees will be given five-star treatment while in Madison.
Tuition for members is $1,100 and $1,250 for non-members. Fees include all course materials, and some meals at the AACD Executive Office. Attendance is limited.
The AACD Executive Office is located in downtown Madison, which is easily accessible for attendees and offers many dining, entertainment, and lodging options within walking distance.
For more information about the event, visit http://www.AACD.com/unplugged.
About the AACD
The AACD is the world's largest non-profit member organization dedicated to advancing excellence in comprehensive oral care that combines art and science to optimally improve dental health, esthetics, and function. Comprised of more than 6,300 cosmetic dental professionals in 70 countries worldwide, the AACD fulfills its mission by offering superior educational opportunities, promoting and supporting a respected Accreditation credential, serving as a user-friendly and inviting forum for the creative exchange of knowledge and ideas, and providing accurate and useful information to the public and the profession.