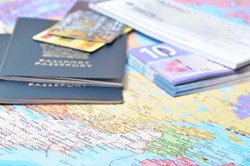 Knowing how to prevent or treat travel-related ailments can help to ensure the beginning of a holiday is a pleasant one.
London, UK (PRWEB UK) 13 June 2012
As summer approaches, many people will be preparing to travel abroad to enjoy a week or two away from home. For most people, the holiday season will be an enjoyable one, offering new experiences and families the chance to spend more time together. However, for some, simply the act of travelling can bring on minor illnesses like travel sickness and jet lag. Though these illnesses are not serious and are only temporary, they can have a negative impact on what should otherwise be a relaxed and enjoyable start to a holiday. Knowing how to prevent or treat these travel-related ailments can help to ensure the beginning of a holiday is a pleasant one. In its newly-expanded travel health section, HealthExpress offers existing and new patients comprehensive information and treatment options for a range of travel-related illnesses.
Travel sickness is a very common consequence of travelling by car, plane, boat or train for many people. Also referred to as motion sickness, travel sickness most commonly presents itself in the form of nausea and vomiting, though dizziness and headaches can also occur. During travel by car, for example, the eye and the inner ear send conflicting messages to the brain relating to whether the body is in motion or not. This confusion leads the brain to trigger the vomiting reflex. A number of medications for travel sickness are now available at HealthExpress, including Scopoderm patches, Avomine and Kwells.
Like travel sickness, jet lag is a minor and temporary condition but it can be particularly annoying for travellers because it can spoil the beginning of a holiday or make the transition back to "normal" life more difficult. Jet lag occurs when the body has difficulty adjusting to new time zones. This is because it depends on the circadian rhythm of the daily routine, for example to know when to fall asleep and when to wake up. When a person enters a new time zone, they need to wake up and fall asleep at different times, so the body needs time to adjust. Melatonin is the name of a hormone which helps the body prepare to sleep. HealthExpress now offers a Jet Lag Treatment Pack, which contains a melatonin-based treatment to help prevent jet lag symptoms from disrupting the beginning of a holiday.
HealthExpress Company Information
HealthExpress is an online clinic specialising in providing treatment, support and advice for common embarrassing medical conditions and lifestyle problems. Launched in 2002, they provide their patients with a discreet, confidential and secure way to order prescription medication online by completing a free online consultation with a registered doctor.
For more details, visit the website at http://www.healthexpress.eu/ or contact HealthExpress on 020 7084 7594 or via email.
HealthExpress is a brand name of Hexpress Healthcare Ltd, 138 – 140 Mitcham Road, London SW17 9NH.