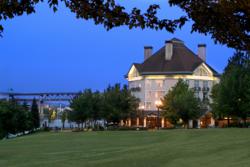 (PRWEB) June 13, 2012
Kids and long car rides don't always mix, but families and outdoor adventure do! This summer, Kimpton's RiverPlace Hotel, a premier Portland, OR waterfront hotel and urban retreat near the heart of downtown, is offering a new "Are We There Yet" package that includes deluxe accommodations, complimentary bikes for the entire family with a map detailing several routes, passes to ride the Portland Streetcar, tickets to the Oregon Museum of Science and Industry and homemade s'mores delivered to your door. Families can book the package now through October 15, 2012 at http://www.riverplacehotel.com, using the rate code PFAM.
Kimpton's RiverPlace is a "riverfront retreat" that celebrates the scenic outdoors while remaining in the middle of the eclectic city action. In addition to the beautiful Northwest-inspired guestrooms, RiverPlace also offers unique Portland vacation rentals in the form of condo suites adjacent to the hotel. Perfect for family trips, these suites feature one or two bedrooms, a fold-out couch, full kitchen and dining room, wood burning fireplace, and washer/dryer, and can be rented as part of the package.
"We're fortunate to have Portland's beautiful natural surroundings in our backyard," said Ryan Kunzer, general manager of RiverPlace. "These natural surroundings, combined with a variety of one-of-a-kind activities and amenities available to RiverPlace guests, we look forward to helping create a dynamic family vacation that embodies recreation and relaxation."
In addition to the core "Are We There Yet" vacation package elements, RiverPlace also offers an abundance of recreational perks for families to enjoy along the waterfront, neighboring park, or cozied up in their room. These exclusive amenities include complimentary bicycles, complimentary on-site yoga, ladder ball, kites, footballs, baseballs, picnic baskets, Frisbees, and more.
About RiverPlace Hotel
RiverPlace is Portland, Oregon's premier urban retreat, situated along the picturesque Willamette River waterfront and just steps from all the downtown action. RiverPlace's unique location and luxury lodge ambiance encourages guests to discover the great outdoors, while taking advantage of the hotel's many playful amenities, including complimentary bike rentals, yoga, and much more. In addition to the hotel's 84 guest rooms, RiverPlace also offers private condo suites complete with full kitchens, living and dining areas, that are perfectly suited for families and groups. RiverPlace is part of Kimpton Hotels & Restaurants, and more information can be found at http://www.riverplacehotel.com.
ABOUT KIMPTON HOTELS & RESTAURANTS
San Francisco-based Kimpton Hotels & Restaurants, a collection of boutique hotels and chef-driven restaurants in the US, is an acknowledged industry pioneer and was the first to bring the boutique hotel concept to America. In 1981 Bill Kimpton founded the company that today is well-known for making travelers feel welcomed and comfortable while away from home through authentic and unscripted customer care, stylish ambience and embodying a certain playfulness in its approach to programs and amenities. Adjacent to the hotels are locally-loved, top-rated, Kimpton restaurants. Kimpton leads the hospitality industry in ecological practices through its innovative EarthCare program that spans all hotels and restaurants. Market Metrix, a recognized authority and leader in feedback solutions, consistently ranks Kimpton above other hotel companies in luxury and upper upscale segments for customer satisfaction. Privately held Kimpton was recognized by Fortune Magazine as a Best Company to Work for in 2012. The company operates more than 50 hotels and more than 50 restaurants in 23 cities. For more information visit http://www.KimptonHotels.com or call 1-800-KIMPTON.