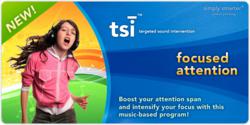 Our professional community has been focusing on labeling and categorizing more children, looking for 'Magic Pills,' not on identifying and addressing their underlying problems.
Ogden, UT (PRWEB) June 21, 2012
The National Association for Child Development (NACD) and Simply Smarter, LLC, after four years of clinical application and investigation, are now offering Targeted Sound Intervention - TSI: Focused Attention® to the public. This patent-pending, home-based CD program is designed to address one of the greatest problems in American education, the lack of ability to focus and pay attention. It is being reported that as many as one in three children have ADHD, and the reality is that problems of focusing and attending are ubiquitous and may be affecting the majority of our children. According to NACD's founder Bob Doman, "Our professional community has been focusing on labeling and categorizing more children, looking for 'Magic Pills,' not on identifying and addressing their underlying problems. The labels then provide an excuse for the system's, and thus the child's, failure." NACD and its team of professionals have been uncovering new understandings of the underlying problems associated with child developmental issues and learning associated problems for 40 years and are dedicated to developing tools that work to address these problems.
NACD's TSI - Targeted Sound Intervention® includes programs that target very specific aspects of auditory processing. TSI: Focused Attention is a program that addresses the skill of auditory figure-ground processing. Auditory figure-ground processing refers to the ability to tune in to and process a specific auditory input in the presence of background sound. For many individuals, from young children with developmental issues to school age children in classrooms to veterans and older adults with mild hearing loss, this skill is critically important and particularly difficult.
The TSI: Focused Attention Basic Set includes a 40-minute instructional DVD, 6 CDs, and an 18-week listening schedule. This interactive program is implemented five days per week and involves two sessions per day, ranging in length from 3 to 6 minutes per session. The listener always listens to it with a listening partner, typically a parent. This program is fun and motivating and offers the added benefit of creating a close personal interactive period between the child and the parent. According to speech-language pathologist Lori Riggs, lead investigator and one of the creators of Focused Attention, "Every child can benefit from improving their ability to tune in and disregard internal and external distractions. This really is a training program for attention. And the close one-on-one time with one of their parents is a special added bonus."
According to the results of NACD's field study with Focused Attention, the program produced statistically significant differences in scores on the standardized tests used. In addition, participation in the TSI: Focused Attention program significantly increased the parents' ratings of the child's performance in three main areas:
1. Ability to tune in, listen, and attend in general
2. Decreased distractibility
3. Ability to listen in the presence of background noise.
The test results were consistent with an increase in the parent's perception of the child's performance.
NACD and Simply Smarter LLC are proud to release this very important program, which addresses aspects of some of our more serious societal and educational issues. According to Bob Doman: "As a nation we have tremendous issues with the lack of ability to focus and attend. If you cannot focus and cannot attend, you cannot process important vital information. Educational instruction generally can't move at the pace of a cartoon or a video game. These issues not only are adversely affecting children's learning, but their behavior and social skills, as well as their development of short-term memory, working memory, and ultimately their overall cognitive abilities. Developing techniques that trigger brain plasticity and affect the child's ability to focus and attend without being medicated to do so is of paramount importance."
The National Association for Child Development was founded in 1979 and is based in Ogden, Utah. NACD has chapters in 16 US cities, London, and New Delhi. NACD's neurodevelopmental work began with children and adults with various developmental issues, including brain injury, Down syndrome, autism, learning disabilities, and ADD and expanded into work with "typical" and gifted children and adults wishing to maximize their abilities. NACD, with their neurodevelopmental programs targeting brain plasticity, has been on the cutting edge of understanding and assisting children and adults since its inception.
TSI: Focused Attention is one of a series of Targeted Sound Intervention programs. NACD, Simply Smarter LLC, and ASCI have also recently released the Simply Smarter Kids-Memory, an iPhone and iPad app designed to enhance children's short -term and working memory. NACD has also teamed up with Blue Whale and launched the NACD Home Speech Therapist-Apraxia app for iPad.