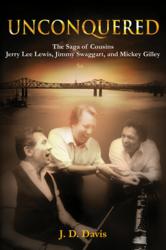 An entertaining and epic 3-in-1 biography...

- Publishers Weekly
Dallas, TX (PRWEB) June 19, 2012
Publishers Weekly calls "Unconquered: The Saga of Cousins Jerry Lee Lewis, Jimmy Swaggart, and Mickey Gilley" (Brown Books Publishing Group), by first-time author J.D. Davis of Dallas, Texas, an "entertaining and epic story of perseverance and the power of family ties."
A unique tale of American music set against the backdrop of the Depression-era South, "Unconquered" explores the lives of famous cousins Jerry Lee Lewis, Jimmy Swaggart and Mickey Gilley from Ferriday, Louisiana, bonded by music, religion and unbreakable family ties.
Drawing from years of exhaustive research and personal connections with the cousins' friends and family, Davis provides readers with an eye-opening look inside the lives of three young boys who became the amazing men we know today, exploring their struggles, their challenges and their successes.
Born on March 15, 1935, Jimmy Swaggart—the Preacher—became one of the most successful gospel singers and televangelists of all time.
Born six months later on September 29, 1935, was Jerry Lee Lewis—the Killer. Lewis went on to become one of the earliest performers of rock 'n' roll, alongside Elvis Presley, and is among the original class to be inducted into the Rock and Roll Hall of Fame.
The youngest of the three cousins, Mickey Gilley—the Cowboy—was born on March 9, 1936. He has had seventeen number one hits and was part owner of Gilley's, the world's largest honky tonk.
"One of the highlights of this effort for me has been forging strong bonds and friendships with many of the people who are closest to these incredible men," says Davis.
"We were raised in the Assembly of God Church," says Mickey Gilley. "That is where the music started."
"When Jerry Lee hit it big with a "Whole Lotta Shakin' Going' On," I was suddenly inspired to get into the music scene," says Gilley. "I was making $1.25 an hour at the time."
"I learned by watching Jerry Lee's piano style, but it would be seventeen years before I had my first big hit 'Room Full of Roses,'" Gilley adds.
Library Journal says, "This is a good read, and not just for the hard-core fan. It will appeal to anyone interested in the dynamics of rock 'n' roll, country music, and evangelical Christianity and what happens when the aesthetics and lifestyle of those three worlds collide."
Acclaimed country music artist Neal McCoy notes, "Being from the South and also in the music business, this book gave me a great insight into how these three guys grew up as cousins, as well as what made them choose the paths that eventually turned them all into the hugely successful names that the entire world knows and loves."
"God, the devil, and everything in between. This book is a great representation of the duality plane on which we exist," says Leon Russell, legendary musician, and Rock and Roll Hall of Fame member.
"Unconquered" weaves a unique tale of American music centered on the trials, tribulation and achievements of three men who remain truly unconquered.
To learn more visit: http://www.UnconqueredTheBook.com.
"Unconquered" is available online and bookstores everywhere.
About the Author
J. D. Davis has been a fan of the music of Jerry Lee Lewis, Jimmy Swaggart, and Mickey Gilley much of his life. Davis was raised in Quitman, Texas, a quiet community in the piney woods of East Texas. A successful businessman and entrepreneur, he manages a large consulting practice. He has three daughters and lives near Dallas, Texas.
# # #