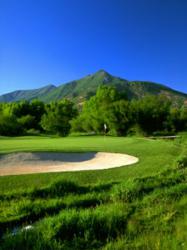 Crater Springs will offer the golf enthusiast a complete golfing experience" Chris Briscoe, Director of Golf
Midway, UT (PRWEB) June 19, 2012
MIDWAY, UTAH (June 19, 2012) – Homestead Resort, Utah's classic American resort in the heart of the Wasatch Mountains, is pleased to announce that the Crater Springs Golf Course has opened as of this spring, according to Eric Clark, General Manager of Homestead Resort. The course was formerly named Homestead Golf Course.
Crater Springs Golf Course features a variety of improvements and added features, including numerous new water features using the natural mineral water of nearby Homestead Crater, a longtime favorite visiting spot for locals and tourists, as well as refurbished tee boxes, renovated cart paths and a new GPS system for a more enjoyable golf experience. Crater Springs Golf Course is a spectacular Par-72, 7,000-yard layout that winds through the surrounding Snake Creek Valley and Wasatch Mountains, offering a challenging round for every level of golfer and breathtaking vistas of Heber Valley and the Mount Timpanogas range.
"We're thrilled to show off our "new" course," said Chris Briscoe, Director of Golf. "We believe we already possessed one of the finest and most challenging golf experiences in the state of Utah and now it just got better. As the water features are added throughout the summer, Crater Springs will offer the golf enthusiast a complete golfing experience, complete with driving range, putting and chipping green, pro shop, Fanny's Grill and Patio, and refreshed guest lodging rooms, one of Utah's great establishments."
For more information on Crater Springs Golf Course and the Homestead Resort, please contact 800-327-7720 or visit http://www.homesteadresort.com
About Homestead and Zermatt Resorts
Set in Utah's scenic Heber Valley, the Homestead and Zermatt resorts are located midway between Park City and Sundance, only 45 minutes from Salt Lake City. With over 500 rooms, the resorts have been designed to celebrate the American tradition and the area's Swiss heritage.
Each resort offers a variety of accommodations, including a wide selection of guest room options, suites and fully equipped condominiums, and award-winning group and banquet facilities.
The Homestead and Zermatt resort owners are comprised of national and international investors with close ties to Utah. The owners seek to celebrate the culture, tradition and history of the communities they serve. For more information regarding the resorts visit http://www.homesteadresort.com or http://www.zermattresort.com
About Gemstone Hotels & Resorts, LLC
Headquartered in Park City, Utah, with offices in Stamford, Connecticut, Gemstone is a full-service management company that specializes in luxury and upscale hotels and complex resorts. Gemstone currently manages 12 properties throughout the United States. For more information about Gemstone, visit http://www.gemstoneresorts.com.