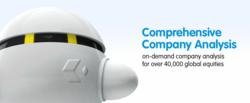 Our partnership with CapitalCube is part of an ongoing commitment to our customers to provide quality and timely research analytics on global equities through ProQuote's robust and innovative trading technology
New York, NY (PRWEB) June 13, 2012
Covering more than 40,000 global equities, CapitalCube is the largest provider of company analysis including fundamental research, corporate actions, earnings quality, dividend quality, and equity screening solutions to the global investment community. CapitalCube is powered by AnalytixInsight which also offers two other services: Developer Connect for financial institutions to easily integrate analytically generated content; and Composer, an innovative, visual authoring environment and knowledge-management tool to extend and create content.
"Our partnership with CapitalCube is part of an ongoing commitment to our customers to provide quality and timely research analytics on global equities through ProQuote's robust and innovative trading technology," said David Tibbets, Head of ProQuote. "In today's global information economy, our customers need fast access to reliable information to make decisions. AnalytixInsight's fundamental research platform, CapitalCube, helps us meet those needs – it's quick, it generates investment ideas through an innovative equity screener, and it covers a much broader pool of traded equities."
"CapitalCube essentially provides investors with a CFA-in-a-box and an MBA-in-a-box solutions which are quick and reliable, for fundamental research, corporate actions, earnings quality and equity screening. So less time is spent tracking down and gathering information and more quality time is spent on uncovering investment potential and opportunities," said John J. Ballow, CEO of AnalytixInsight, Inc. "Our platform covers more than 40,000 equities worldwide – more than any other provider – arming ProQuote customers with a powerful tool to unlock investment potential in the UK or other markets."
Customers accessing AnalytixInsight through ProQuote will have access to fundamental analysis on over 40,000 global equities, coupled with the London Stock Exchange and UK Equity Market Level 1 and 2 price information. They will also be able to utilize the extensive Retail Service Provider network and will have direct access to London trading for equities and fixed income.
About CapitalCube
CapitalCube provides comprehensive company analysis including on-demand fundamental research, portfolio evaluation, and screening tools on over 40,000 global equities. CapitalCube empowers your investment ideas through in-depth analysis on a company's (a) performance relative to its peers, (b) accounting and earnings quality, (c) dividend strength, and (d) likely corporate actions such as dividend changes, share buybacks, and acquisitions. Our innovative stock screener allows you to identify investment ideas using natural business terms and by investing themes e.g. companies likely to increase dividends or those with earnings quality issues – a major advance from existing screeners that use just data and financial ratios. You can also evaluate the characteristics of your portfolios by benchmarking your investments on multiple fundamental and peer-relative attributes e.g. companies in your portfolio with high quality dividends, with bloated cost structures, etc. To find out more about CapitalCube's offerings, visit http://www.CapitalCube.com.