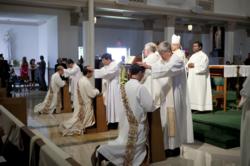 "The ordinations we celebrate today represent an especially joyous moment for our Church and for the Jesuit order.
Washington, D.C. (PRWEB) June 12, 2012
The Society of Jesus, the largest order of priests and brothers in the Roman Catholic Church, today ordained 12 new priests. The ordination ceremonies were held at Fordham University in N.Y.; Loyola Marymount University in Los Angeles, Calif.; Spring Hill College in Mobile, Ala.; and St. Thomas More Church in St. Paul, Minn.
A diverse group, the ordinands hail from Ill., Minn., Mass., Texas, Calif., La., Fla., N.Y., Vietnam and Italy and range in age from 34 to 50. Three of the twelve newly ordained priests were born overseas, a statistic consistent with a newly released survey by CARA, a national, non-profit, Georgetown University affiliated research center that conducts social scientific studies about the Catholic Church.
Before entering the Society of Jesus (Jesuit order), the new priests worked in the financial and high-tech industries, served in the military, taught at the high school and college level, practiced medicine and earned a multitude of advanced degrees.
Those called to Catholic priesthood in the Society of Jesus undergo extensive training – from the moment novices enter the Society to the moment they're ordained -- a process that can take anywhere from eight to 12 years. Following ordination, the new priests will serve in parishes and teach in Jesuit universities, among other assignments.
Rev. Thomas H. Smolich, president of the Jesuit Conference, said, "The ordinations we celebrate today represent an especially joyous moment for our Church and for the Jesuit order. As they begin their priestly ministry, I want to thank all those being ordained for their commitment and service. I am confident that the spirit, courage and generosity of St. Ignatius, the founder of the Jesuits, will both inspire and guide their service to God's people."
The twelve priests ordained this year:
Father William V. Blazek, S.J., 47, hails from Chicago. Before entering the Society of Jesus, Father Blazek served five years in the 101st Airborne Division and was awarded a Combat Infantryman's Badge and a Bronze Star for wartime service in Saudi Arabia and Iraq. He earned his Doctor of Medicine Degree from Rush Medical College and a Master's Degree in healthcare ethics from Loyola University Chicago.
Father Cesare Campagnoli, S.J., 47, is also a physician. Raised in Italy, Father Campagnoli earned his medical degree from the University of Pavia School of Medicine and a Doctorate in obstetrics, gynecology and pediatrics from Imperial College School of Medicine.
Father Christopher J. Duffy, S.J., 49, grew up in Rochester, N.Y. Following graduation from Clarkson University in Potsdam, N.Y., Father Duffy held a variety of positions in the high-tech industry before earning an MBA from Union College in Schenectady, N.Y.
Father James "Jay" Hooks, S.J., 34 was raised in Tampa, Fla. Before entering the Society of Jesus, Father Hooks earned his Bachelor's Degree from Florida State University and taught English in Japan.
Father Paul A. Lickteig, S.J., 37, is a native of Bloomington, Minn. A graduate of Creighton University in Omaha, Neb., Father Lickteig taught scripture at Creighton Preparatory School and also worked with men incarcerated at San Quentin State Prison in Calif.
Father Richard P. Magner, S.J., 50, is a native of Houston, Texas. After earning an MBA from Texas A & M University, Father Magner served as an accountant and financial analyst in Houston for a decade before entering the Society of Jesus.
Father Matthew F. Malone, S.J., 40, hails from Cape Cod, Mass. The former deputy director of MassINC and co-publisher of CommonWealth, an award-winning review of politics, policy, ideas and civic life, Father Malone is the newly appointed editor-in-chief of America magazine, the only national Catholic weekly magazine in the United States.
Father Joseph G. Marina, S.J., 50, hails from New Port Richey, Fla. The former associate provost and chair of the education department at LeMoyne College in Syracuse, N.Y., Father Marina also served as dean of the School of Continuing Education at Providence College in R.I. and associate dean for the College of Science and Mathematics at Montclair State University in N.J.
Father Bao Q. Nguyen, S.J., 40, was born in Saigon, Vietnam, and immigrated to the U.S. in 1992. After graduating from the University of Houston, Father Nguyen worked as an accountant and risk assessment manager before earning an MBA and joining the Society of Jesus in 2001.
Father Trung H. Pham, S.J., 37, was also born in Vietnam and immigrated to Orange County, Calif. with his family when he was a teenager. Father Pham, who taught drawing and painting at Santa Clara University in Calif., earned a Bachelor's Degree in chemical engineering from UCLA and a Master of Fine Arts Degree at the Pratt Institute in N.Y.
Father Brian M. Reedy, S.J., 38, is a native of Hemet, Calif. Father Reedy is a former adjunct faculty member in chemistry at Fordham University in N.Y., where he completed a Master's Degree in philosophy. This year, Father Reedy had the joy of preaching in California at the Easter Vigil as his parents were received into the Roman Catholic Church.
Father Daniel J. Tesvich, S.J., 35, hails from New Orleans, La. Father Tesvich, who taught theology at Jesuit College Preparatory School of Dallas, earned a Master's Degree from Loyola University Chicago and a Master of Divinity Degree from Boston College School of Theology and Ministry.
About the Society of Jesus
Founded in 1540 by Saint Ignatius Loyola, the Society of Jesus (Jesuits) is the largest order of priests and brothers in the Roman Catholic Church. Jesuit priests and brothers are involved in educational, pastoral and spiritual ministries on six continents and in 127 nations around the world, practicing a faith that promotes justice. For nearly 500 years, Jesuit education has made its mark on the world. In the United States, there are 28 Jesuit colleges and universities, 59 Jesuit high schools and 16 middle schools with a shared goal of developing competent, compassionate and committed leaders in the service of the Church and society. Jesuits minister in parishes and at retreat houses and serve as chaplains at prisons, hospitals, nursing homes and in the military. For more information on the Society of Jesus, visit http://www.jesuit.org.