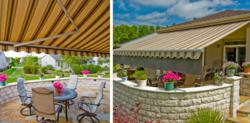 "This study bolsters the fact that awnings and exterior shades are an effective method to reduce heat gain and cooling energy costs."
Roseville, MN (PRWEB) June 14, 2012
A new energy study conducted by Dr. Joe Huang, a research scientist and president of the consulting group, White Box Technologies, reinforces that awnings and exterior shades can provide savings on home cooling costs by reducing the load on air conditioners. The study calculates the impact of awnings in 50 cities across the United States and will be available to the public later this summer.
According to the data analysis, in a hot year, awnings can reduce annual cooling energy by more than 52%, compared to homes with completely unshaded windows. The amount of cooling energy saved varies depending on the number of windows, type of glass in the windows, window orientation and the climate of the region. This can amount to as much $200 or more in energy savings for homes with equal window distribution having single or double pane windows.
For instance, in Fort Worth, TX, a house with awnings cooling energy use is reduced by 14-25%compared to the same house without awnings. Both cooling energy savings and the peak demand reductions are largest on homes with west-facing awnings.
"People now realize that cooling energy is lost through glass doors and windows," said Michelle Sahlin, managing director of PAMA. "This study bolsters the fact that awnings and exterior shades are an effective method to reduce heat gain and cooling energy costs."
The awning energy study, commissioned by the Professional Awning Manufacturers Association (PAMA), increased the number of variations (cities, shade designs and fabrics). White Box Technologies also incorporated updated information about weather and energy costs, and includes improvements to the simulation model.
For more information on the energy-saving benefits of awnings, visit http://www.awninginfo.com.
About PAMA
The Professional Awning Manufacturers Association (PAMA), a division of the Industrial Fabrics Association International (IFAI), is the only international trade association committed to the awning industry. PAMA membership is open to companies who are current members of IFAI and manufacture or sell awnings, as well as those who supply goods and services to the awning industry. Learn more at awninginfo.com.