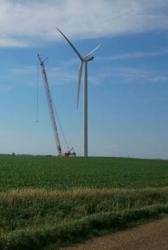 West Des Moines, IA (PRWEB) June 13, 2012
RPM Access announces it has secured construction and term financing for two new wind projects currently under construction in Iowa; the 36-megawatt Hawkeye wind energy project in Fayette County and the 50-megawatt Rippey wind energy project in Greene County.
Rabobank and BayernLB, through their New York offices, will provide credit facilities that include construction, ITC-cash-grant bridge, and term loans in excess of $116 Million. Milbank Tweed Hadley McCloy LLP served as legal counsel to the lenders. Kaye Scholer LLP served as legal counsel to RPM Access.
"We are very pleased to have received financing from two highly-respected and leading financial institutions in the international renewable energy arena that will provide both short-term and long-term funding for our Hawkeye and Rippey wind farms in America's heartland," said Stephen Dryden, principal of RPM Access.
Construction on the Hawkeye and Rippey wind energy projects began in November, 2011. Both projects are on schedule to be fully operational in the fall of 2012. The two projects, combined, will consist of thirty-five Nordex 2.5 megawatt turbines manufactured at Nordex USA's new manufacturing facility in Jonesboro, Arkansas. M.A. Mortenson of Minneapolis, Minnesota, is the construction contractor for both projects.
The two projects together will generate enough clean renewable energy to serve more than 30,000 homes. Central Iowa Power Cooperative ("CIPCO"), which is based in Cedar Rapids, Iowa, will purchase the power generated by both projects under long-term power purchase agreements.
In 2011 RPM Access completed the 41 MW Elk Wind Farm. With a cash grant under the American Recovery and Reinvestment Act of 2009 and financing from Rabobank and another bank, Elk became the first wind farm owned and operated by RPM Access. With the addition of its Hawkeye and Rippey wind farms this year, RPM Access will own and operate approximately 127 MW of wind energy projects in Iowa.
Combined with RPM Access' sale of its 120 MW Laurel Wind Farm and 103 MW Vienna Wind Farm to MidAmerican Energy Company, RPM Access has been responsible for the development of nearly 350 MW of new installed wind generation capacity in Iowa in 2011 and 2012.
About RPM Access LLC
RPM Access, headquartered in West Des Moines, Iowa, is an independent developer, owner and operator of wind projects with its main focus on the continued development of high quality wind farms in the Midwest. Over the last twelve years RPM Access has initiated the development of over 700 megawatts of operating wind farms located in Iowa. For more information: http://www.rpmaccess.com
About Rabobank
Rabobank Group is a global financial services leader providing wholesale and retail banking, asset management, leasing, real estate, and renewable energy project financing. Founded over a century ago, Rabobank is one of the largest and safest banks in the world, with nearly $1 trillion in assets, operations in more than 40 countries, and the highest rating among private banks by Standard & Poor's and Moody's. In North America, Rabobank is a premier bank to the food and agriculture industry and a leading financier of solar, wind, bioenergy, and energy infrastructure projects. http://www.Rabobank.com
About BayernLB
Bayerische Landesbank, based in Munich, Germany, is owned by the Free State of Bavaria and the Association of Bavarian Savings Banks. Its consolidated total assets as of March 31, 2012 were € 304.6 billion. BayernLB concentrates on the customer segments including large German and international corporate customers, German mid-cap corporate customers, German public sector and institutional investors, German commercial real estate and German retail customer business. For more information: http://www.bayernlb.com