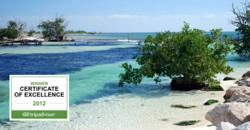 TripAdvisor congratulates Hacienda Tres Ríos for having received the prestigious Certificate of Excellence 2012
Cancún, Quintana Roo (PRWEB) June 13, 2012
TripAdvisor, the largest travel website in the world, recognized the Riviera Maya's leadership in tourism upon awarding Hacienda Tres Ríos Resort, Spa & Nature Park the Certificate of Excellence 2012, naming it as one of the best resorts in Mexico's Caribbean.
"TripAdvisor congratulates Hacienda Tres Ríos for having received the prestigious Certificate of Excellence 2012" said the website and added that this award is given "only to the best establishments".
Travelers from this important online tourist community, who contribute to the over 40 million visits a month, gave the highest ratings for the second year in a row to the comfortable facilities and excellent quality services at this exclusive, environmentally friendly resort, part of the Sunset World Resorts & Vacation Experiences.
"Travelers have recommended the establishment during the course of the year and as a result, the score it has received represents an outstanding achievement," said TripAdvisor.
Based on guest reviews, TripAdvisor awarded this coveted accolade to Hacienda Tres Ríos, which has received more than 40 international distinctions since its opening in November 2008. They include the Travelers' Choice 2010 Winner for Best Relaxation and Spa Hotels in Mexico and the Caribbean, and the World Travel Awards as the Best Green Hotel and Best All-Inclusive Hotel of Mexico and Central America.
Reviews made on the website by satisfied tourists include "100% likely to return", "We had a great time", "Happy honeymoon in Hacienda Tres Ríos", "We loved it", and "Hacienda Tres Ríos is great for a luxury escapade".
TripAdvisor provides a platform for travelers to plan their holidays through actual recommendations and advice from other tourists, as well as integrated links to make reservations. It is considered the largest travel network in the world, with 40 million visitors per month and over 20 million registered members worldwide.