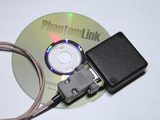 It's easy to install, easy to use, and easy on the pocketbook.
Albuquerque, NM (PRWEB) June 13, 2012
Many homes have security systems installed, but if the homeowner is not interested in paying for alarm monitoring services, there are few options. Many homeowners will simply leave their systems completely unmonitored. They will trust that the mere presence of the alarm system will deter a potential thief. Unfortunately, an unmonitored security system provides little piece-of-mind. Once the homeowner leaves the house, how do they know for sure that everything is alright?
PhantomLink has addressed this problem by developing a simple do-it-yourself alarm monitoring solution that allows customers to monitor their home security system via web, email, and text messages. PhantomLink works with nearly any existing alarm system. All it requires is a wireless internet connection (Wi-Fi/802.11).
PhantomLink uses a small, easy-to-install device that links the customer's security system to the customer's wireless internet connection. The PhantomLink device sends status updates to PhantomLink servers over the internet. If it senses an alarm event, or if the internet connection is severed, the servers immediately alert the customer via email and/or text messages. The customer can then log into the PhantomLink.com alarm monitoring "dashboard" to review timelines and graphs of the alarm event. The customer can also optionally add webcam video to their dashboard to see real-time video of their home or driveway.
"PhantomLink was designed to be an easy solution for the homeowner," says Adam Peters, the company's founder. "It's easy to install, easy to use, and easy on the pocketbook. We don't want to duplicate all of those complex systems you now see on the market. PhantomLink provides just the right amount of information to give the homeowner the piece-of-mind they need."
PhantomLink is offered as a free open-source project available for use by anyone with an existing security system and a wireless internet connection.
PhantomLink.com provides do-it-yourself remote security monitoring solutions. PhantomLink.com was developed by and is operated by Phantom Data Services, LLC, a New Mexico limited liability company specializing in website development and data processing products and services. Visit http://www.phantomlink.com for more information.