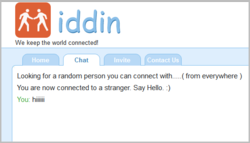 Finding adult online dates are now easy with the help of Iddin Live.
Cambridge, MA (PRWEB) June 14, 2012
Iddin, one of the pioneers of IM Chat, is now revamping its global chat engine in order to suit adults who are looking for dates. Based on Internet statistics, a large bulk of web surfers are intent on visiting chatrooms just to have hours of chatting fun. Iddin Live can bring fun to these people by encouraging IM Chat without much hassle. Adding to that, Iddin can connect a user to anyone all over the world.
An Iddin user can begin chatting right away, eliminating the need to give out any personal information to the website. This is why every person in the chatroom is tagged as a 'stranger.' Some Iddin users refer to the website as an online speed dating rendition because chat moments are fast, depending on the preference of strangers. Connecting through Iddin happens in just seconds. First, the user just needs to select a country from the drop-down list. For faster connection, the user can select the 'Anybody' option. After that, the Iddin free chat platform will connect the user to the first stranger that it can find.
Despite the famous privacy filter, Iddin users can still share their information through chatting. Apart from that, they can also upload their pictures to ensure that they can chat online efficiently. In the latest version of Iddin, users can upload their pictures at a faster rate, saving much needed time. Sharing photos can now be done with just one click, yet users will have the privilege to turn the sharing option off. The Iddin development team has also observed that users with pictures can chat longer with other strangers.
In case there are problems with Iddin's web chat platform, users have a choice to send out an email to the Iddin staff. The Iddin team works round the clock to maintain the efficiency of the chat tool.
About Iddin
Iddin is a free web application that specializes in generating random chat with strangers. Users can choose the locations of the strangers, or they can have the engine to search the whole world. Random chat is encouraged to protect the identity of people and also to empower spontaneous connection that is fun and interesting. Users can visit http://www.iddin.com to discover its features.