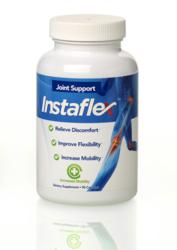 we are thrilled to add the Instaflex brand to Vitamin World's line-up of products.
Charlotte, NC (PRWEB) June 14, 2012
Direct Digital LLC, the developer and marketer of Instaflex™, one of the nation's leading joint support nutritional supplements, announced today that Instaflex Joint Support will be carried at over 400 Vitamin World stores nationwide. Based on the continued success of the Instaflex brand via online sales and traditional retail (both in the U.S. and internationally), Vitamin World, one of the nation's premier boutique health and wellness chains, has chosen to add Instaflex to its roster of dietary supplements in all existing stores beginning mid-June 2012. Instaflex is already a top seller in many of today's leading food, mass market and specialty product retailers.
Instaflex Joint Support boasts a highly efficacious, premium formulation made with a proprietary, clinically-tested, eight ingredient blend. By selling only top-quality products using scientifically proven compounds at competitive price points, Direct Digital maintains a commitment to high standards by consistently creating best-in-class wellness products. This business practice fully satisfies Direct Digital's mission to enhance the general lifestyle of a growing population that actively pursues health and well-being via daily fitness and dietary supplement routines. The Instaflex Joint Support product helps encourage an improved quality of life through heightened mobility, enhanced flexibility and cartilage repair. Furthermore, Instaflex provides proven discomfort relief from painful, stiff, and achy joints.
According to Direct Digital Co-Founder and President, Brandon Adcock, "Vitamin World is a state-of-the-art manufacturer and retailer of all forms of supplements. Because of its long-standing, solid reputation in the business community and commitment to quality, we are thrilled to add the Instaflex brand to its line-up of products. Adcock went on to state that he is "particularly excited about the Vitamin World guarantee of contaminant-free products" and believes "Instaflex will help add great value to the Vitamin World clean guarantee."
Vitamin World, headquartered in Long Island NY, currently owns and operates over 400 retail stores nationwide and is a go-to destination for sophisticated wellness products and nutritional supplements. "Direct Digital will now be able to provide their core customers with a joint support product that lives up to its promises and helps individuals' experience a lifestyle that is happier, healthier and more rewarding." Adcock goes on to further comment that "the Instaflex entry into Vitamin World is likely the first of many business endeavors with the organization" and that he "hopes it will only expand as Direct Digital continues to build its portfolio of innovative, relevant lifestyle products."
To learn more about Instaflex Joint Support, and the entire family of Instaflex products, please visit http://www.Instaflex.com.
About Direct Digital, LLC
Direct Digital, based in Boston, MA and Charlotte, NC, is a leader in product development and marketing within the health and wellness space and owns the Instaflex™, Lumiday™ and Luminite™ brands. All Direct Digital products are distributed throughout North America and internationally, including Canada and the Middle East. For additional information, please visit http://www.DirectDigitalllc.com.
For press inquiries, please contact Launchpad PR at 310.397.4321